New Business Secretary Announces £95m New Government Funding for Advanced Materials Research and Development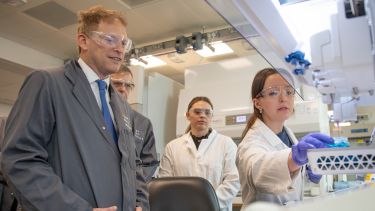 ---
 The £95 million announced today will help to cement the UK's standing as a leader in advanced materials research, development and innovation.
Speaking during a visit to the institute's Hub at The University of Manchester, the Business Secretary said:
"R&D investment is a critical way to turbocharge Britain's growth. Growing an economy fit for the future means harnessing the full potential of advanced materials, making science fiction a reality by supporting projects from regenerative medicine to robots developing new recycling capabilities, right across the country – including here in the heart of Manchester.

Today's £95 million investment will do just that, bringing together the brightest minds across our businesses and institutions to help future-proof sectors from healthcare to nuclear energy."
Royce was formed in 2015 with an initial £235 million government investment through the Engineering and Physical Sciences Research Council (EPSRC).
---
WORLD-RECOGNISED EXCELLENCE
Its mission is to support the growth of world-recognised excellence in UK materials research, accelerating commercial exploitation and delivering positive economic and societal impact.
Advanced materials are critical to a wide range of sectors and industries, including health, transport, energy, electronics and utilities.
Advanced materials-related activity contributes an estimated £14.4 billion in gross value added to the UK economy, equivalent to around £72k per employee – 25% above the UK average.
R&D AND INDUSTRIAL STRENGTH
Advanced Materials and Manufacturing   was identified as one of seven technology families where the UK has globally competitive R&D and industrial strength in the government's Innovation Strategy.
Advanced materials refer to all new materials and modifications to existing materials which add considerable value by delivering superior performance in one or more characteristics that are critical for the application under consideration.
They provide significant advantages over traditional materials – for instance creating high-strength components for planes and cars – as well as allowing for more sustainable manufacturing and technologies which will help us get to net zero.
---
STIMULATING INNOVATION
Royce works across the UK's regions with academic and industry partners including Johnson Matthey, Rolls-Royce, BAE Systems and BP, to stimulate innovation and the development of robust local economies which can operate in a global environment.
This work varies from funding and providing the facilities needed for early-stage fundamental research that is crucial to innovation, to identifying opportunities with industry to drive closer research collaboration.
Examples include lightweight materials and structures; biomaterials, materials for next generation batteries and fuel cells, and materials designed for reuse, recycling and remanufacture.
---
BUILDING ON SUCCESSES SO FAR
EPSRC Executive Chair Professor Dame Lynn Gladden said:
"Advanced materials are crucial to driving growth across our key industries, from energy and transport to health, and ensuring they are sustainable for the future.

"This funding will build on the success of the Henry Royce Institute so far, to unleash the potential of this transformative technology for the benefit of the economy and the environment."
To date the Royce has worked with 295 SMEs and industry users and facilitated 350 collaborations between academia and industry.
Examples of projects so far include:
New cladding for nuclear reactors to improve safety, cost efficiency and carbon reduction
Developing materials needed for quantum computing
Utilising surplus materials from the shellfish industries to replace plastic in feminine hygiene products
Using robots to develop revolutionary new materials from medicinal materials to catalysts for plastics recycling
The use of 3D bioprinting techniques in the development and manufacture of bioengineered systems/devices for application in Tissue Engineering, Regenerative Medicine, Drug Development and other more traditional areas of healthcare
---
Professor David Knowles, Royce CEO said:
"Royce and its Partners across the UK, along with the advanced materials community, is very pleased to be able to confirm this Phase ll EPSRC funding.

"Innovation in advanced materials underpins a wider range of our industrial sectors and is fundamental to our economic growth.

"Our Partnership offers a unique combination of materials science expertise, state-of-the-art laboratories and fantastic collaboration spaces for the advanced materials community.

"As we enter our Phase ll operations we are focused now, more than ever, on working with the community to identify the key challenges and opportunities ahead of us, and supporting the translation of innovative research into the viable products and systems needed to ensure a sustainable future for us all."
---
University of Manchester President and Vice-Chancellor, Professor Dame Nancy Rothwell said:
'I am delighted that the fantastic work of the Royce in this sector has been recognised by this major award from EPSRC, further reinforcing Manchester's place at the epicentre of this revolutionary area of research and development.'
---
Prof Philip Withers, Chief Scientist, Henry Royce Institute added:
"As acknowledged in last year's Innovation Strategy advanced materials is a key technology. New ways of formulating, making and combining materials into systems mean that we now have unparalleled freedom to design and make new materials of almost infinite variety.

"Critically, this combined with developments in materials informatics and machine learning means that we have the potential to rapidly accelerate and smarten up innovation to provide the next generations of advanced materials.

"In a time of global uncertainty, support for key strategic sectors such as manufacturing, energy, and healthcare is essential. This new 5 year investment will enable us to work with UK industry and academia to help shape the future."
---
Connect with us
Let's work together to develop the next generation of materials for a sustainable society.
Contact us by email or find us on Twitter and LinkedIn.
Flagship institutes
The University's four flagship institutes bring together our key strengths to tackle global issues, turning interdisciplinary and translational research into real-world solutions.