Royce at the University of Sheffield is equipped with two state-of-the-art facilities to assist in the acceleration of university and industry ideas through to an industry production scale in order to meet global challenges.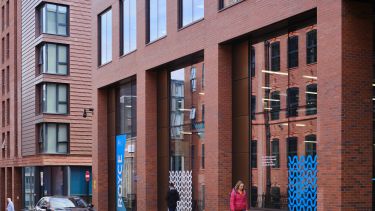 Off
Over two purpose-built sites – the Royce Discovery Centre and the Royce Translational Centre – our dynamic team of engineers support a vertically integrated factory that can produce new alloys through to near net shape products through both solid and liquid processing.
---
The Royce Discovery Centre, based at the University of Sheffield City Centre Campus, focuses on early-stage research on materials discovery and processing.
The facility takes materials and processing concepts, and develops these from basic principles through analytical and experimental processes, with the aim of proving the concept in terms of feasibility and applicability for industrial use. 
Housing state-of-the-art specialist laboratories, workshops, and office spaces, the Royce Discovery Centre draws on expertise present within the Royce team and the Department of Materials Science and Engineering, to provide real solutions in the discovery and creation of innovative material systems.

Collaborative knowledge from our researchers has enabled the smooth transition in taking product and process ideas from initial concept, through development, testing, and optimisation, to industry trial. Our facilities accelerate end-to-end research activities, whilst also offering access to equipment or services at any stage of the process.
The Royce Discovery Centre and the Royce Translational Centre work in tandem with the Engineering Faculty facilities to further enhance the University of Sheffield's status as a world leader in the science and development of materials processing.
---
How to find us
The Royce Translational Centre
Royce Translational Centre, Sheffield Business Park, Europa Ave, Tinsley, Sheffield, S9 1ZA
The Royce Discovery Centre
Royce Discovery Centre, Harry Brearley Building, 5 Portobello St, Sheffield, S1 4ND
Flagship institutes
The University's four flagship institutes bring together our key strengths to tackle global issues, turning interdisciplinary and translational research into real-world solutions.