Celebrating 40 years of Korean Studies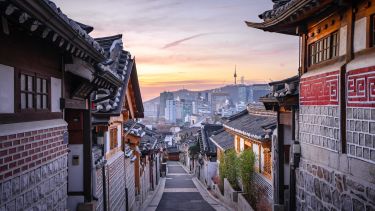 The University of Sheffield is currently celebrating 40 years of Korean Studies.
As part of these celebrations, we have invited Professor Suk-Young Kim (Professor, Director and Head of Performance Studies at UCLA), Professor Laurel Kendall (Curator of Asian Ethology and Division Chair, Division of Anthropology at the American Museum of Natural History) and Dr Jim Hoare (Associate Fellow, Asia-Pacific Programme) alongside Professor James H Grayson to discuss the issues facing Korean Studies and it's future.
The event will take place on Wednesday 18th September 2019 from 4pm-6pm in Lecture Theatre 2 in the Diamond with a small reception following in the ground floor reception area.
The panel and their topics of discussion
Professor Laurel Kendall
Curator of Asian Ethology and Division Chair, Division of Anthropology at the American Museum of Natural History
Laurel Kendall's research on Korea has always assumed a larger Asian comparative perspective, whether the topic be shamans, popular religion, gender, modernity issues, or material culture.
She has also conducted fieldwork outside of Korea, tempered by Korea-defined issues and questions and has brought those extra-Korea experiences to bear on her Korea work. In this presentation she will offer reflections on the future study of Korea within a larger and still-expanding universe of Asian Studies.
Possible emerging topics and strategies for Koreanists invite other ideas and broader discussion. Kendall's remarks draw on her experience as a recent officer of the Association for Asian Studies (2015-2019) and former AAS President (2016-2017).
Professor Suk-Young Kim
Professor of Theater, Director for Center for Performance Studies, UCLA
The future of Korean Studies largely depends on millennials of both Koreas, and in that regard, this presentation addresses the seismic sociocultural shifts that millennials face in today's North Korea.
North Korea might be known as the world's most secluded society, but it has witnessed the rapid rise of media technologies in the new millennium.
While the North Korean state is anxiously trying to catch up with the world standard of communication technology, it is also faced with the need to block free influx of outside information by allowing only intranet to its people.
In a country where smuggling foreign media still can be punished by public execution, how do young North Koreans manage to access outside information?
This presentation explores how the expansion of new media technology complicates the country's seemingly monolithic facade mired in entangled networks of technology and surveillance, intellectual property and copyrights, and the way for millennials to live creatively with censorship and relatively freely under surveillance.
Dr Jim Hoare
Dr Hoare will discuss how research and commentary on North Korea and inter-Korean relations has changed over the years, up to the present.
More broadly, as someone regularly providing media and scholarly commentary on North Korea, he will speak about how North Korea has been de-mystified to some degree as time has gone by, but that both the regime and its people continue to be misread.
Hhe will share some of his own reflections on what he thinks North Korea's objectives are in the world, particularly given the recent summits with Donald Trump and Moon Jae In and then could then shed light on how we can better learn about/research North Korea and why this matters in Korean studies generally.
Events at the University
Browse upcoming public lectures, exhibitions, family events, concerts, shows and festivals across the University.