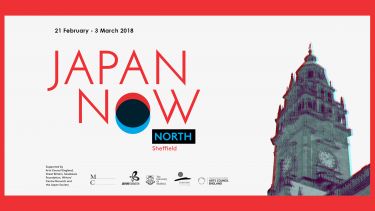 Wednesday 21st February - Saturday 3rd March 2018
Various locations across Sheffield
#JapanNowNorth
Japan Now North is a week of activities celebrating art, culture, literature and film in Sheffield, home of one of Europe's leading academic centres for research and teaching on Japan. Events take place across the city, including talks with renowned filmmaker and photographer Mika Ninagawa, writer Tomoyuki Hoshino and an exhibition and workshop with Japan-based photographer and visual artist Suzanne Mooney. We will also welcome documentary filmmakers Megumi Sasaki and the Peabody award-winning Kyoko Miyake, and host the UK premiere of Sasaki's documentary A Whale of a Tale.
For more information about any of our events please get in touch at JapanNowNorth@sheffield.ac.uk.
All events programmed by the University of Sheffield in partnership with the Japan Foundation and Modern Culture. Supported by University of Sheffield, Great Britain Sasakawa Foundation and the Japan Society
Programme of events
---
From Place to Place by Suzanne Mooney - exhibition launch
Bloc Projects
Thursday 22nd February, 6-8pm (exhibition runs from 21st February - 3rd March)
This exhibition combines selected images from two series, Come away, O'…, which explores city-view observatories in Tokyo, and an ongoing series of self- portraits taken over more than a decade in locations around the world. Some images explore the experience of the (Tokyo) city view, focusing on elements such as the window frame, reflections of light and distortion, while in others the figure (subject/artist/viewer) is placed within the Japanese landscape, natural or manmade, indistinct or inseparable from the surroundings.
There is a continuous shifting of the boundary between the figure and the landscape, between man, nature and the man-made.
Suzanne Mooney is an award-winning visual artist and art academic, based in Tokyo. She won the Aesthetica Art Prize in 2015. 
---
Visualising Japanese Idols: Mika Ninagawa
Council Chamber, Sheffield Town Hall
Saturday 24th February, 3pm-5pm
Famous for her images of pop idols, flowers and goldfish all rendered in marvelous technicolour, Mika Ninagawa first rose to prominence as part of group of young female artists who emerging onto the Japanese art scene in the 1990s.
Today her work is exhibited across the globe and we are thrilled to have her come to talk in Sheffield as part of Japan Now North. Director of Helter Skelter (2012) and Sakuran (2006), as well as numerous music videos including two for popular girl band AKB48, Ninagawa's work is known for its vibrant colours and images. In this talk, accompanied by both films and images of her work, Ninagawa will talk about all aspects of her work to date and her upcoming projects.
UPDATE
Two extra events ahead of Visualising Idols with Mika Ninagawa. 
No need to book.
Join us for this rare opportunity to watch Ninagawa's film, Helter Skelter (for free) and make intriguing 2.5D anime masks!
Film screening of Helter Skelter (2012) by Mika Ninagawa
11am - 1pm
Council Chamber, Sheffield Town Hall
FREE (suitable for 15 years old +)

Be an Anime Character: 2.5D Anime Mask-making Workshop
1pm - 2.30 pm
Council Chamber (Ante Room), Sheffield Town Hall
FREE (suitable for 12 years old +, grown ups welcome too)
---
UK Premiere of A Whale of a Tale and Q&A with Director Megumi Sasaki
Showroom Cinema
Monday 26th February, 6pm - 8.30pm
The town of Taiji has hunted dolphins for over 400 years but in 2010 an American documentary meant that overnight the coastal town became a battleground between the local community and foreign environmental activists.
Made in response to The Cove (2009), Megumi Sasaki's film follows Jay Alabaster, an American journalist who moved to Taiji, and Atsushi Nakahira, a Japanese-nationalist who attempts to bring the town and the environmentalists into dialogue.
A Whale of a Tale examines the complex issue of Japan's contemporary dolphin hunting. A Whale of a Tale is a fascinating and unique examination of this controversial topic that engages with both the local fishermen and the environmentalist that seek to stop whaling practices.
---
Discussing Documentary Making: student workshop with Jasper Sharp, Megumi Sasaki and Kyoko Miyake
Showroom Cinema
Tuesday 27th February, 1.30pm – 3pm.
As part of the events of Japan Now North, University of Sheffield students will have the opportunity to attend a documentary roundtable with two of the leading Japanese female documentary makers working today, Kyoko Miyake and Megumi Sasaki.
They will be joined by Jasper Sharp one of the leading critics and writers on Japanese cinema and documentary maker. His debut film, the award-winning The Creeping Garden explores extraordinary worlds of plasmodial slime mould
---
Life after Disaster – a conversation with Richard Lloyd Parry and Mariko Nagai
Graves Gallery, Sheffield
Tuesday 27th February, 6.00pm-7.30pm
From the terror of tsunamis to irradiated cities, explore the contemporary environmental issues that have plagued Japan. Richard Lloyd Parry is a notable author and Asia Editor at The Times, based in Tokyo.
In Ghosts of the Tsunami (2017), he recounts the events of the 2011 tsunami and their aftermath. Mariko Nagai is an award-winning author and poet and her 2017 collection Irradiated Cities traces Japan's nuclear past. The authors will read and discuss their work and sign books after the event.
---
Tokyo Idols Screening and Q&A with Director Kyoko Miyake
Showroom Cinema
Tuesday 27th February, 8pm-10pm
Girl bands and their pop music are a central part of modern Japanese life. Following an aspiring pop singer Rio and her fans, Tokyo Idols explores a cultural phenomenon driven by an obsession with young female sexuality, and the growing disconnect between men and women in hyper-modern societies. In this award-winning documentary, Kyoko Miyake takes us inside the fascinating world of the Japanese female-teen Idol industry. At 19, Rio is fast approach the age-limit in an industry that is obsessed with extreme youth. Rio's main fans, known as 'the brothers' are nearly all mostly middle-aged men who devote their lives to their idolization of Rio and other teen idols. Tokyo Idols explores how an obsession with young female sexuality and Internet popularity is fueling a complex industry that is turning towards ever-younger stars.
---
Margins to the Mainstream - Tomoyuki Hoshino, in conversation with Deborah Smith
Roco Creative Co-op, Sheffield
Wednesday 28th February 6pm - 8pm
Explore the world of Japanese literature from a new angle! Tomoyuki Hoshino is a novelist who goes where others fear to tread, exploring sexual identity, neoliberalism and power structures in Japanese society in earlier books including We, The Children Of Cats and his latest work – ME: A Novel. Hoshino will be in conversation with the Man Booker prize-winning translator and publisher Deborah Smith in this informal Sheffield setting.
The author will read and discuss his work and sign books after the event.
---
Urban Modes of Being in Contemporary Japan – a roundtable discussion featuring Suzanne Mooney
The University of Sheffield 
Thursday, 1st March, 6-8pm
What does it mean to live in the world's largest metropolis? This roundtable discussion builds on the exhibition of the work of Tokyo-based visual artist and academic Dr Suzanne Mooney at Bloc Projects. Suzanne will be joined by academics from the University of Sheffield's Schools of East Asian Studies and Architecture, and the Urban Institute.
Events at the University
Browse upcoming public lectures, exhibitions, family events, concerts, shows and festivals across the University.