Senate Award for Leadership in Learning and Teaching for Prof. Hugo Dobson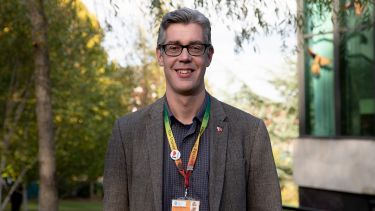 The initiative has already been recognised through a number of awards including the Faculty Teaching Excellence in Social Sciences Award, a Senate Award for Collaborative Activities, plus a commendation from the British International Studies Association (BISA) and Higher Education Academy (HEA) in their annual learning and teaching award scheme in June 2016.
Professor Dobson first started working with the GLOSS programme to develop the Global Leadership Initiative (GLI), which provides students with the opportunity to attend global summits such as the G20. It is the only programme of its kind in the UK and one of only two in the world, making it a unique opportunity for social sciences students studying in the UK.
The GLI has grown since Professor Dobson took on the role of GLOSS director to include 5 or 6 summits each year, ranging from visiting partner institutions and international organizations, such as the International Labour Organization, to attending global summits, such as the Group of 7 (G7) summits in Japan, Italy and Canada, as well as the Group of 20 (G20) summits in China and Germany.
Under Professor Dobson's leadership, GLOSS has continued to promote other activities including the GLOSS Research Associate scheme, which offers funded opportunities for undergraduate students within the Faculty of Social Sciences to undertake a six-week international research project during the summer vacation. GLOSS has also expanded by establishing Development Matters, a student-facing lecture series that seeks to embed an understanding of the sustainable development goals across the Faculty.
While working as Director of GLOSS, Professor Dobson continues to take an active role within SEAS as our Head of Department, teaching a number of undergraduate and postgraduate modules and collaborating with colleagues on the development of our new and innovative undergraduate curriculum, which will improve the skills development and employability of our students.
The senate award
The University of Sheffield Senate Awards Scheme aims to encourage and promote good practice, and raise the status of teaching and learning as a scholarly and inspirational activity. The Scheme rewards those who are inspirational or who demonstrate an exceptional contribution in the area of learning and teaching and/or supporting and enhancing the student learning experience. Candidates for a Senate Award are nominated by colleagues who are members of staff at The University of Sheffield
Flagship institutes
The University's four flagship institutes bring together our key strengths to tackle global issues, turning interdisciplinary and translational research into real-world solutions.