Sukyeon Cho Receives South Korean President's Award for Contributions to Education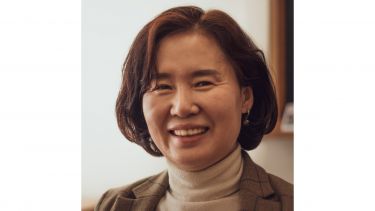 Sukyeon Cho was commended for her many initiatives and innovations in developing Korean language teaching materials and practices since she first began teaching at SEAS in 2005. She was recognised for her role in building up the programme from a time when it was at risk of closure through lack of students to the present year in which as many as 130 students are enrolled. During that time, she has received numerous other awards and recognitions.
The award report highlighted Sukyeon's important contributions to international exchange in the field of Korean language and culture, such as giving a presentation on Korea's ingenious alphabet hangeul to an audience of linguists and teachers from around the world at the London Language Show. It also mentioned her work in organising the Sheffield Korea Day and Sheffield Korean Video Contest and arranging for the installation of a pair of Korean totem poles (jangseung) on the University of Sheffield campus. 
Sukyeon was praised for her leadership in Korean-British academic exchange, including collaborative research on Korean language teaching with Korean scholars and the negotiation of student exchange agreements between Sheffield and five leading Korean universities, as well as a period of service as head teacher of the Sheffield Korean School. She was described as a positive example for other Koreans to emulate.
"I was born in a very small remote village in South Korea. At that time, there was even no electricity, and I remember thinking the candle light was so bright compared to the oil lamp! Now I am living on the other side of the world, raising a family and teaching at the prestigious Sheffield University. It is just amazing how life has turned out for me.

My dream as a child was either to be a writer or a teacher. I've always been happy to be a teacher at Sheffield University and enjoy teaching and meeting students.

I feel extremely lucky to be at the right place at the right time. I'm very excited and feel honoured to receive this prestigious award. I'm also excited about receiving something with President's Moon Jaein's signature on it.

I want to thank all my colleagues for their support, especially Yeon Jeong Kim who has been working with me for seven years now. Without her dedication, it would have been very hard to maintain the high standard of the Korean language programme at the time of the rapid increase in numbers of students.

Last but not least, I would like to thank my students. Through their hard work, they have achieved a very high level of Korean language ability which helps make Korean Studies at Sheffield one of the leading programmes in Europe, and that has contributed to my receiving this great honour. "

Sukyeon Cho

University Teacher in Korean Language
Congratulations to Sukyeon on this prestigious award. We are very proud to have her part of our SEAS team and grateful for all the amazing work she does to ensure our Korean Studies programme is the best it can be.
Read the original news story about the award here (in Korean)
A world-class university – a unique student experience
Sheffield is a research university with a global reputation for excellence. We're a member of the Russell Group: one of the 24 leading UK universities for research and teaching.