Life After Sheffield: Postgrad & Podcasts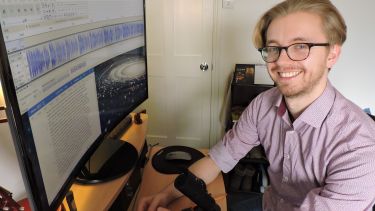 Off
Back in 2015, I was a curious student sat in my first Japanese language class getting to grips with the basic hiragana and katakana characters. Surrounded by classmates from a wide range of backgrounds with all sorts of reasons for being in that classroom, I could not have imagined where those classes would take me: making friends with Japanese exchange students at the Japan Society; blaring out karaoke with classmates from across the world at a downtown bar in Shijō, Kyoto; going through wartime newspaper microfilm at the Kyoto archives while undertaking my first research project; or presenting that research at a conference on East Asian war memory in Amsterdam before a room full of senior academics. This was a taste of what those 4 all-too-brief years had in store for me, taking advantage of the amazing opportunities made available to me through the University of Sheffield such as the GLOSS funding for my research, the excellent work by SEAS staff in getting us to wonderful Japanese universities for our year abroad and the incredibly supportive lecturers.
Upon finishing my last exam in 2019, I know I was not alone amongst my classmates in wondering "what next?" It's easy to feel a bit derailed after charging through 4 years of intense, structured coursework into a summer without pressing deadlines and with endless directions to strike out on in the next chapter of your life. I knew that I wanted to do a masters programme to continue the research I had started through GLOSS around 'Camouflaged War Heritage', looking at how tourism and heritage management policies in Kyoto had obscured heritage sites related to the Asia-Pacific War and their history in favour of premodern heritage. However, I struggled to find a course that comprehensively covered the multidisciplinary elements of my research interest. The answer came in June when I met with Dr Jennifer Coates, a friend and colleague of my research supervisor Dr Mark Pendleton, to discuss putting together a book chapter around my research presentation at the NIOD Institute for War, Holocaust and Genocide Studies. When we discussed my plans post-Sheffield, she suggested I apply for the part-time MA in Cultural Heritage & Museum Studies at the University of East Anglia (UEA) where she was lecturing at the time. Not only was it an opportunity to deepen my knowledge of the relatively new field of Heritage Studies, there was also a vacancy for a Project Coordinator at their Centre for Japanese Studies (CJS). As a unique chance to further my academic goals and simultaneously gain invaluable experience working behind the scenes in organising seminars, summer schools and research grants, I seized on the opportunity and was fortunately accepted.
I quickly settled into life at UEA, balancing a hectic yet exhilarating schedule of stimulating seminars, exciting work projects and writing my book chapter. However, like many others, my plans were severely disrupted by the COVID-19 pandemic. I was one week away from flying out to Okinawa for a month's internship at the Himeyuri Peace Museum when the world went into lockdown. Not only were my studies affected, but many of my work projects – seminars and summer schools in particular – were suddenly unfeasible. This more broadly impacted my personal academic development as the face-to-face networking that came from managing seminars and attending conferences became an impossibility. It was as CJS was rethinking its strategy that I came up with a means of addressing all the above problems within the parameters of lockdown – why not start a podcast?
I came up with the name Beyond Japan to encapsulate the goals of CJS: to capture the multidisciplinary nature of the field and inform on the latest developments from leading academics across the world. As such, I have reached out to academics whose work, while being based on Japanese case studies, is relevant beyond the national and disciplinary context. Some examples of this include challenging notions within gender studies through dansō escorts in Japan or demonstrating how the Black Lives Matter movement is relevant beyond the context of the USA or white post-imperial nations through protests held in Osaka. I have reached out to academics whose research also challenges conventionally held assumptions of Japan, such as exposing its racial diversity and opening up its imperial legacy to wider postcolonial debate. I have hoped that this, as well as the conversational format, will capture what I have enjoyed most about academia – talking with other academics.
Without a doubt, one of the things I have missed most through the COVID-19 pandemic is meeting with other academics at conferences. My first conference was the British Association for Japanese Studies (BAJS) 2018 conference, where I first presented my research. I found myself surrounded by people I had previously only know through reading lists and PDFs and was surprised to find them not to be ivory tower scholars, but simply people passionate about a particular topic and excited to share that with anyone who would listen. I felt embraced by the community and made many friends, some of whom I have since been delighted to invite on the podcast. I have also been surprised by the overwhelmingly positive responses I have received when inviting academics I have never been in touch with before to the podcast. Beyond Japan has not only helped me to stay in touch with fellow researchers in adverse circumstances, it has given me the opportunity to share my own passion for researching and to show academia as it was shown to me at that conference: exciting, approachable and accessible. I think back now to the curious student I was 6 years ago barely getting my head around basic Japanese grammar and hope that my podcast will stoke the flames of passion for research in other budding students starting out in the most challenging of years.
During his time running the Beyond Japan Podcast, Ollie has interviewed a number of SEAS staff including Dr Jamie Coates and Prof Hugo Dobson.