Sustainability Hero Award for SEAS Green Impact Champion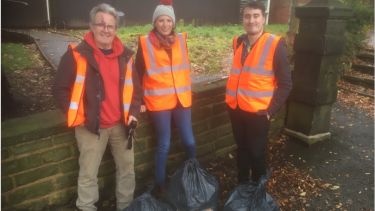 Off
The University of Sheffield is committed to responding to the global climate emergency and encourages all staff and students to do their part to help make the University a more sustainable place. Each department has a Green Impact Champion who organises and takes part in projects such as raising money for local charities, growing food, reducing energy consumption and educating staff about sustainability. 
In 2019-2020, Jon Hempsall took on the role of Green Impact Champion for SEAS and did such a good job he was awarded the Sustainability Hero Award at the annual Green Impact Awards for his exceptional work to champion climate action!
"During my time working as an apprentice for the School of East Asian Studies I was very fortunate to have been given the responsibility of being the School's Green Impact Champion. The project, which is an initiative the University has undertaken for the last 10 years, is part of its long-term sustainability strategy and is encouraged across all academic departments and teams, which SEAS has been involved with for a number of years.
As part of my involvement with Green Impact, I worked with a 3rd-year philosophy student to create a community-based project which colleagues both within the school and the wider university could get involved with. To do this, we organised a series of litter picks around Northumberland Road and the surrounding area, as well as, a food donation to the S6 foodbank. We also continued to promote ways to make the office more sustainable including adding stickers to light switches to remind colleagues to turn lights off when, not in use and promoting alternative ways to attend international conferences if travel is not essential such as through video conference software. 
Overall, the work that we put into Green Impact was successful and we were fortunate to have been able to complete our project work prior to the start of the covid lockdown. Our litter picks and foodbank donation were well supported and we received very positive feedback from the wider Green Impact team. At the end of the project, we were audited by a member of the Student Union's Sustainability team who spoke highly of our work and also gave her support to any future projects which SEAS are involved with in the future."
Jon has now moved on to work in the Department of Computer Science but we are committed in the School to keeping up his hard work and continuing to implement his green impact initiatives.