Dr Fumihito (Fumi) Gotoh
School of East Asian Studies
Lecturer in East Asian Studies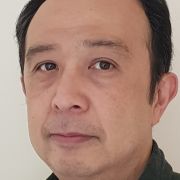 F.Gotoh@sheffield.ac.uk
Jessop West
Full contact details
Dr Fumihito (Fumi) Gotoh
School of East Asian Studies
Jessop West
1 Upper Hanover Street
Sheffield
S3 7RA

Profile

Dr Fumihito (Fumi) Gotoh specialises in Japanese and East Asian Politics and International Political Economy with a focus on comparative capitalisms (particularly between Anglo-American countries, Japan and China), globalization and resistance, politics of finance and technology, credit markets and credit rating agencies.

Fumi joined the School of East Asian Studies in 2021 after working as a teaching and research fellow in the Department of Politics and International Studies at the University of Warwick (2017-21). He completed his PhD in Politics and International Studies at Warwick in 2018. His thesis explored the conflict between Japanese society's anti-free market norms and American-led liberal global norms (promoting capital and labour mobility) from a Neo-Gramscian perspective.

He used to live in Taiwan for five years and South Korea for one year. His master's study in International Political Economy at the London School of Economics focused on the comparative analysis of Taiwan and South Korea. 

Before starting his doctoral research, Fumi conducted twenty years of corporate credit analysis and investment strategy formulation at the Industrial Bank of Japan, Merrill Lynch (now Bank of America Securities) and UBS Investment Bank. He was ranked #1 in 2004, 2005, 2007, 2008 and 2009 on Nikkei Credit Analyst Rankings.
Qualifications

 BA Economics (Keio)

MSc Politics of the World Economy (LSE)

PhD Politics and International Studies (Warwick)
Research interests

Japanese and East Asian politics
International Political Economy
Comparative capitalisms (particularly between Anglo-American countries, Japan and China)
Globalization and resistance
Politics of finance and technology
Credit markets and credit rating agencies

My current research focuses on a globalization-financialization-digitalization nexus and Japanese society's resistance to it as well as the comparative analysis of Japanese and Chinese models of capitalism (particularly in the areas of consumer credit, vehicle electrification and credit rating agencies).

Publications

Books

Journal Articles

Chapters

Blogs

Gotoh, F. (2021)  'Divergent Social Norms and Capital-Labour Relations in China and Japan' - SOAS China Institute.
Teaching interests

I believe teaching is a partnership of learning with students. My teaching philosophy is to encourage curiosity in my students, foster their critical thinking and promote active learning.
Teaching activities

For the academic year 2021-22, I am teaching the following modules.

EAS6226 and EAS6227: Business and the Economy of Japan
EAS6212: Work and Organisation in East Asia
'Supporting Your Studies at SEAS' for PGT students

Previously, I taught postgraduate modules including International Relations of the Asia-Pacific, East Asian Development Policies (at Warwick) and International Business Analysis (at Kyushu University in Japan).