Dr Jennifer Coates
School of East Asian Studies
Senior Lecturer in Japanese Studies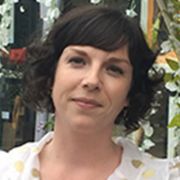 jennifer.coates@sheffield.ac.uk
Jessop West
Full contact details
Dr Jennifer Coates
School of East Asian Studies
Jessop West
1 Upper Hanover Street
Sheffield
S3 7RA

Profile

My research and teaching is situated at the intersection of Japanese Studies, Film Studies, History, History of Art, and Anthropology, and can best be characterized as Japanese Cultural Studies.

I was awarded a PhD in Japanese Cinema in 2014 from the Centre for Media Studies in the Faculty of Languages and Cultures at the School of Oriental and African Studies (SOAS), University of London. My first book, Making Icons: Repetition and the Female Image in Japanese Cinema, 1945-1964 (Hong Kong University Press, 2016) expanded upon my PhD research to develop an extended study of female representation in Japanese film.

My wider research interests include Japanese and East Asian cinema, photography, gender studies, filmmaking, and ethnographic methods. I have published on these topics and others in Cultural Studies, Participations, Japanese Studies, Japan Forum, the U. S.-Japan Women's Journal and The Journal of Japanese and Korean Cinema.

Before joining SEAS, I studied, researched, and taught in many areas of the world. I was an AHRC Kluge Fellow at the Library of Congress, Washington D.C. (2012), a Visiting Research Fellow at the Australian National University (2011), Assistant Professor at the Hakubi Center for Advanced Research, Kyoto University (2014-2018), and Senior Lecturer in Japanese Arts, Cultures, and Heritage at the Sainsbury Institute for the Study of Japanese Arts and Cultures at the University of East Anglia.
Qualifications

MA (University of Glasgow), PhD (SOAS, University of London)
Research interests

I am developing a book manuscript entitled 'Feelings Without Words: Growing Up With the Cinema in Postwar Japan', based on four years of ethnography in Kyoto, Osaka, and Kobe. The book explores the role of cinema in the development of a sense of self for those who grew up during the Occupation of Japan (1945-1952) and its aftermath.

Framed as an ethno-history of cinema attendance and reception in the Kansai region of Western Japan, this original study positions cinema as a discursive object in the living memories of the era.

Individual chapters deal with the origin stories of cinema in Japan, gender and the cinema audience, the gap between Occupation authorities' expectations of the audience and lived experience, and cinema's relation to activism.

Many of my research outputs take a cross-regional and interdisciplinary approach, including publications on Manchurian-Japanese wartime co-production films, postwar Japanese co-productions with Hong-Kong, and transnational star personae.

I have conducted research on the simultaneous development of ethno-fiction filmmaking techniques in France and Japan, and on Taiwanese and Korean co-productions set in Tokyo, and co-authored an article on film-motivated tourism in China. I have also collaborated with affect theory specialists in the UK, USA, and Japan, and with a group of art historians in Zurich on two projects on photography.

Moving beyond traditional research publication methods, I completed a short documentary titled When Cinema Was King (2018) on the topic of Japanese cinema audiences and their memories.
Publications

Books

Edited books

Journal articles

Chapters

Book reviews
Teaching activities

Jennifer teaches on the following undergraduate modules:

EAS2032 Contemporary Japanese Society
EAS3033 Researching Japan 2
EAS3034 Japan Research Project 2