Dr Ku In (Kyuin) Kim
BA, MA, PhD
School of East Asian Studies
Teaching Associate in Korean Language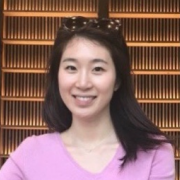 Ku.kim@sheffield.ac.uk
Jessop West
Full contact details
Dr Ku In (Kyuin) Kim
School of East Asian Studies
Jessop West
1 Upper Hanover Street
Sheffield
S3 7RA

Profile

Dr. Ku In (Kyuin) Kim is a Korean language lecturer in the School of East Asian Studies at the University of Sheffield where she has worked since 2018. She completed her Ph.D. in 2021 in Korean language Pedagogy at Ewha Womans University in Korea.

She has a varied background with broad expertise in many forms of Korean Studies.
From 2014 to 2018, she has worked as a Korean lecturer at SungKyunKwan University and the Chinese University of Hong Kong. she worked in the private sector of multinational companies in Korea. In addition, she also worked as a translator and published "Korean for Overseas Koreans (English)" by the Ministry of Education of Korea.

As a Korean studies researcher, her research involves Intercultural competence in Korean language pedagogy, analyses how Intercultural competence is perceived/acquired, and how can be measured/implemented in the Korean language pedagogy.
Qualifications

B.A. (University of California, San Diego)
M.A. (Ewha Womans University)
Ph.D. (Ewha Womans University)
Research interests

Research interests include:

 Korean Language Pedagogy
 Intercultural Competence in Korean language pedagogy
 Cultural representations in Korean language textbooks
Publications

Journal articles
Teaching interests

Kyuin Kim's teaching approach combines language skills and Intercultural competence to provide students with a more comprehensive view of both the Korean language and culture.

Her modules encourage students to develop their language proficiency and communicate successfully with different cultures in the global world.
She incorporates innovative teaching methodologies and provides a student-centered, interactive learning environment to build confidence in students' learning journeys.
Teaching activities

Kyuin Kim teaches the following modules:

EAS 171 & 6251 Non-specialist Korean Language I
EAS 172 & 6261 Non-specialist Korean Language 2
EAS 21001 Non-specialist Korean Language 3
EAS 21002 Non-specialist Korean Language 4
EAS 1043 & 1044 Korean Language 1A
EAS 1045 & 1046 Korean Language 1B
Professional activities

Project:

Directing 'Online Korean Language & Culture Contents and Curriculum', Sungkyunkwan University, Korea. (Current)
Co-writing 'Intermediate-Advanced Level Textbook', University of California (San Diego), US (Current)
Implemented a 'Digital Learning resources for specialist Korean modules', University of Sheffield (2019)
Organised 'Korean Language Workshop' and 'Korean Language Panel Event', University of Sheffield (2020, 2022)