Yeon-Jeong Kim
BA, MA
School of East Asian Studies
Teaching Associate in Korean Language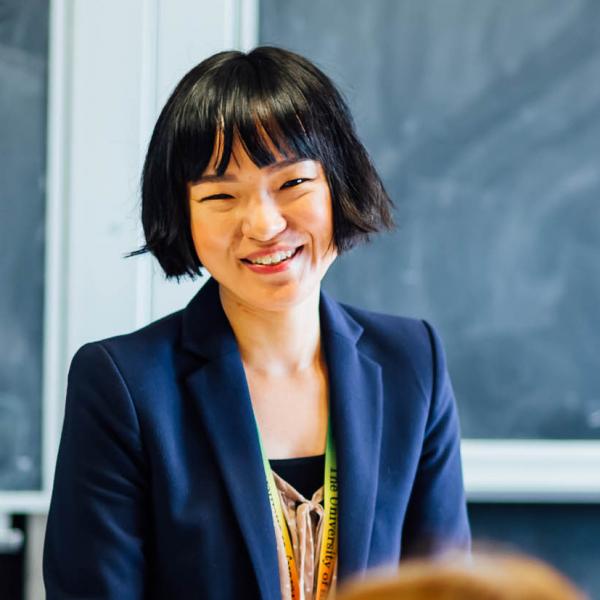 yeon.j.kim@sheffield.ac.uk
Jessop West
Full contact details
Yeon-Jeong Kim
School of East Asian Studies
Jessop West
1 Upper Hanover Street
Sheffield
S3 7RA

Profile

After earning my two BA degrees in 2004 I worked as a Korean Language instructor in Korea and Japan for over 8 years.

From 2012 to 2013 I took postgraduate studies in Intercultural Communication at the University of Sheffield and worked as a part-time Korean language teacher of the School of East Asian Studies at the University of Sheffield.

My MA dissertation (2013) was a study of Intercultural Communicative Competence through filmmaking in learning Korean as a foreign language.
Qualifications

BA (Kookmin University, South Korea)
MA (Sheffield)
Teaching interests

I base my teaching on three philosophies.

First, during the lesson, students should be leaders in their learning, and teachers merely guide and help students to structure their learning process more effectively. This is based on constructivism, the idea that learners construct their own understanding and knowledge through experiences and by reflecting on those experiences.

To achieve this, I design a lesson to include a variety of student-centre activities such as pair work, group work, role play, discussion and games that give students an opportunity to express their own ideas and to participate in their learning experiences.

Second, a lesson should be alive. Language is deeply related to culture, and more broadly to people's ways of life. Culture keeps changing. As a culture changes, so does the language.

In this respect, I think it is very important to keep the lesson contemporary and based on reality, including curriculum and teaching materials that allow students the ability to access today's Korea. To achieve this, the teacher should make continuing efforts to check and update materials in the lesson plan.

I also think a lesson should be fun. Learning another language is extremely hard work. Mastery of the target language requires an incredible amount of repetition and practice.

Therefore, to help students enjoy their process of learning, I always bring a lot of energy to my class to make the class dynamic. I motivate students by presenting fun and interesting materials related to the lesson. I also utilise various teaching tools such as PowerPoint, flash cards, music and video.
Teaching activities

I teach the following modules:

Korean Language 1A
Korean Language 1B
Korean Language 2A
Korean Language 2B
Korean Language 3A
Korean Language 3B
Korean Language 4A
Korean Language 4B

I am also the director of Korean Language classes for non-specialists.