A warm welcome to former students! Whether you graduated last year or 40 years ago, we are dedicated to maintaining a strong relationship with our alumni.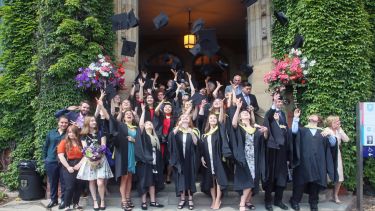 Off
Keep in touch
Please keep us up to date with what you are doing. We really do like to know that you are succeeding in your chosen field - who knows one day you maybe on our famous alumni list! By updating your details on the University system we can also keep you up to date with life in the University and invite you to events for our alumni such as our alumni dinners.
Join our Alumni Group on LinkedIn
You can keep in up to date with our activities within the school by signing up to our annual SEAS newsletter, or you can follow us on Twitter and Facebook. 
Get involved
There are lots of ways you can be involved, from providing quotes about your time at Sheffield, offering work shadowing and work experience places for our students and volunteering to speak to students about your career choice and experiences. We also welcome articles about you and your post-graduation experiences for our annual SEAS Newsletter.
To get involved, email Mollie Shadwick.
Support students
We are very grateful to our alumni, who continue to help support the school and our students. SEAS graduates already make a significant contribution, for example, by contributing to prizes that we award to our very best students. You can make a donation to specifically support the department by contacting Victoria Large using the link above. Alternatively, if you wish to make a donation to support the University, please use the link below.
Meet our alumni
Stay connected with your University
Experience all the benefits and services that come from being a Sheffield graduate.