Information on who makes up a doctoral supervisory team and how to find a supervisor.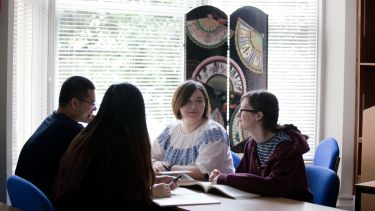 On
As one of our doctoral students, you will be supported by a supervisory team. The supervisory team is made up of your Primary Supervisor, your Secondary Supervisor and Postgraduate Research Tutor who offers additional support of a pastoral nature.
---
Primary supervisors
Primary supervisors are responsible for the supervision of your thesis and for monitoring your progress towards the completion of the thesis.
Secondary supervisors
Secondary supervisors are responsible for ensuring you complete all the required training and gain the training you need for your future career through the Doctoral Development Programme (DDP). 
The second supervisor will also provide academic input into the PhD by commenting on your work and advising more generally on progress.
With your agreement and that of your supervisors, the first supervisor may advise you on your DDP
Postgraduate research tutor
In addition to your two named supervisors, you will have access to a personal tutor who is unconnected to the research project and who is available to provide advice and support on pastoral issues when required.
The personal tutor forms part of a wider 'supervisory team', which may also include the Director of the Doctoral Programme, Head of Department and relevant administrative support staff, etc.
These individuals are not expected to take part in your day-to-day supervision, but be available to provide advice and support in certain circumstances, or to deal with issues that have been referred to them.
Fieldwork and supervision
Many of our doctoral students spend time researching and writing their dissertations in the East Asian region. We ensure supervision is maintained by electronic means, by mail and by regular meetings in line with the faculties quality control mechanisms.
The specific format can be designed in terms of your own individual needs: some visits to the UK will be required, but it is just as likely that fieldwork in the region will mean that your supervisor will be able to meet you in East Asia.
---
The School is interested in applications from all students with an interest in:
The list below is designed to give a sense of the particular areas of interest and expertise individuals within the School have. It is an overview only and is not exhaustive.
If you think that our research activities would fit well with your own interests then please contact us to discuss your options.
Politics, Economy and International Relations of East Asia
East Asian Cities Environment and Development 
Global East Asian Cultures (GEACs)
Critical Ethnography in East Asia
Find a PhD
Search for PhD opportunities at Sheffield and be part of our world-leading research.