Everything you might want to know about East Asian Studies at Sheffield
We are delighted that you are thinking about studying here with us at the School of East Asian Studies, we hope you find the information useful and will help answer some of your questions.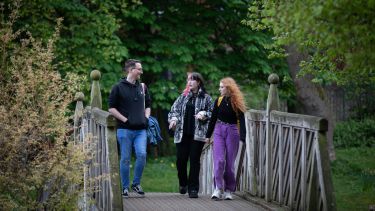 With a history dating back to 1963, the School of East Asian Studies is one of Europe's leading centres of academic excellence for the study of contemporary East Asia, with research and teaching covering China, Japan and Korea. Our staff are specialists in language acquisition, politics and international relations, history, cultural studies, anthropology, business and literature of East Asia.
Why Study East Asia?
East Asia's rich history, vast population and diverse cultures make it a fascinating area of study. Its growing economic power and influence also make it an important pathway to employment.

China is one of the world's fastest growing economies and home to great cultural traditions and complex and rapidly changing societies, which faces global and local challenges such as climate change and dramatic social change. 
Japan is the world's third largest economy and its political influence has grown steadily over recent decades making it an important player on the world stage. Japan also has a complex, dynamic and fascinating society that contrasts high-tech cityscapes with temples, mountains and forests. 
Recent political and economic developments on the Korean Peninsula make this a fascinating region to understand. In a short time, South Korea has transformed into a leading economy with growing cultural exports such as music and film.
Find out more about studying at The School of East Asian Studies
Our degrees
Our degrees allow you to study China, Japan and the Korean peninsula in depth whilst learning one or two East Asian languages. You can explore topics related to East Asian History, culture, society, politics and business and spend a year living and studying in the region, honing your languages skills and experiencing the culture you're studying.
You can also combine Chinese, Japanese or Korean language study with a different subject through one of our dual honours programmes. 
'And' degrees (e.g. Business Management and Japanese Studies) involve a 50/50 split between the two subjects.
'With' degrees allow you to choose a 'Major' and 'Minor' focus (eg Chinese Studies with Japanese would mean Chinese as a Major and Japanese language as a Minor)
Study Abroad
All our degrees provide an opportunity to study abroad, allowing you to immerse yourself in a different culture.
Chinese/Japanese/Korean Studies programmes include a full academic year (third year) studying at a highly ranked university in China, Japan or Korea, therefore making each course a 4 year course. 
The year abroad offers you an unrivalled opportunity to improve your language skills and provide valuable insights into the country you are studying and its people. The year abroad has also helped students to grow their confidence and self-reliance through building new skills and adapting to new situations. These are all attributes highly sought after by employers.
Do you have to do a Year Abroad?
If you decide a year abroad isn't for you, you can still study our East Asian Studies course which involves a fully funded field trip for up to two weeks to East Asia in the second year of the degree. The field trip could be in China, Japan or Korea and will give you the opportunity to immerse yourself in the country whilst undertaking some in-country research. Our East Asian Studies degree is a three year degree. 
However, you can still undertake a Year Abroad with our East Asian Studies course, you can apply for a year of studying abroad as part of the Global Opportunities Year Abroad Programme. Unlike on our other programmes, this year abroad is optional and you can apply once studying at Sheffield. You could spend your year in Europe, Canada, Asia, Australia, New Zealand or the USA.
Find out more about the Year Abroad
Do I need to know the language to apply for a course within the School of East Asian Studies?
For all our undergraduate courses, no prior knowledge of the language is required. We accept up to the A-Level equivalent if you do have prior knowledge. 

Evidence of interest in East Asia demonstrated through the personal statement is required.
What A level subjects do applicants tend to come with?
We do not require any specific A-Level to be taken before studying with us, the most important thing to us if that you have an interest in East Asia. 
If you have any more questions about undergraduate study at the School of East Asian Studies, please email eastasianstudies-admissions@sheffield.ac.uk.
A world-class university – a unique student experience
Sheffield is a research university with a global reputation for excellence. We're a member of the Russell Group: one of the 24 leading UK universities for research and teaching.