I wanted to be in a city surrounded by nature and with a university with good, professional staff for Japanese Studies

Kathlynne Camanzo
Undergraduate student
Japanese Studies BA
Kathlynne found the small class sizes helped to develop her Japanese skills faster, and enjoyed the wide variety of modules on offer.
Why did you choose to study Japanese?
Before joining the university, I had already self-studied Japanese for a year and wanted to continue studying it after sixth form, hopefully learning more about the language and culture.
What attracted you to the University of Sheffield?
I knew the university was one of the top Russell universities and that Sheffield was one of the greenest cities in England, so I personally wanted to be in a city surrounded by nature and with a university with good, professional staff for Japanese Studies. Not only that, the university has more than 300 societies and I knew I could enjoy my free time by joining any one of them.
What do you enjoy most about your course?
The Japanese language classes are quite small, so as a small group, it's faster and easier for the teachers to help us develop our skills in writing, speaking, and reading.
---
Other than Japanese classes, we have the freedom to choose modules within East Asia that are about politics, or the economy or media and I like that we get to learn about other countries other than Japan.

Kathlynne Camanzo

Japanese Studies BA
---
How have you found learning a new language?
I understand Bisaya (Cebuano) fluently and enjoyed learning French during secondary school so when it comes to languages, learning Japanese was more fun than anything. However, the learning process has been difficult, but I've learned to find my own revision method for Japanese.
What is Sheffield like to live in? Do you like the city?
Sheffield is a great place for adventuring around nature, from the parks near the train station to the ones near Endcliffe, so it's great to make use of the green city.
Sheffield is very accessible as well; you can take a quick walk to the independent coffee or vintage stores in Devonshire Street, or take a tram to the large shopping centre, Meadowhall. Personally, I enjoy being active, so I do love walking around Sheffield to relax.
What are your ambitions for the future?
I aim to work for a game studio or a streaming service company in recruitment, and hopefully find a company with Japanese connections to make use of my Japanese skills from university and my year abroad.
Do you have any advice for students thinking about doing Japanese Studies at Sheffield?
Think about what you really enjoy about Japanese, not making the year abroad your sole reason to study the language. Discover your own study method for revision because what your friends do, might not work for you.
Take the opportunities that come from Japan Society or any Japanese related activities that will help boost your Japanese skills, because studying with online resources won't be enough, so apply your Japanese skills in person, with your friends, Japanese exchange students etc. Don't be afraid to make mistakes and do your best.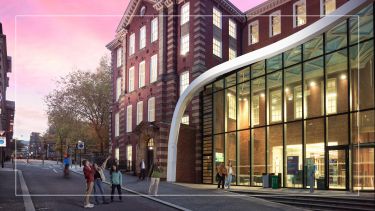 Visit us
Discover what sets Sheffield apart at our undergraduate open days on the Saturday 21 October or Saturday 18 November.