I felt as though I'd be entering an inclusive and productive environment

Luke Bill
Undergraduate student
Korean Studies BA
Luke found Sheffield to have a comforting student environment, making it the perfect place to study.
Why did you choose to study Korean?
I've always had an interest in the country and culture so the language followed suit and I found that I really enjoyed learning it.
I studied Mental Health Nursing for two years at a different university and found myself always using Korean as a stress relief or way to separate myself from a degree I slowly started to dislike, and so naturally I felt so strongly about studying Korean that I did some research and here I am.
What attracted you to the University of Sheffield?
I knew that Sheffield was one of the universities that offered a Korean Studies course, and I like the layout of the course (year abroad in 2nd year) because I felt it was a much more useful structure. Also loved the vibes the staff gave me; I felt as though I'd be entering an inclusive and productive environment.
What do you enjoy most about your course?
I can study the language that I love every single day and explore a different culture. I feel like I've found my niche, and doing it at university level means I don't get too stressed or down because it's just what I want to do.
How have you found learning a new language?
At times it is difficult, but feeling accomplishment and achievement is amazing. If you work hard, actually do what you're supposed to, get your head down, you can see big results. I have nothing but pride over how far I've come since being in Sheffield and that's come from putting myself in hard situations, dealing with stress and ignoring opinions and thoughts of other people.
---
I find nothing but good things about learning Korean; I rarely find it so hard that I can't do it, the course follows what I personally feel is a natural progression with your language studies so it's not very drastic.

Luke Bill

Korean Studies BA
---
What is Sheffield like to live in? Do you like the city?
Sheffield is so clean and pretty, the people are lovely and the student environment is very comforting. Compared to Korea, the air is clean and traffic is calm, though eating out and transport is expensive, but that's an England complaint. Sheffield is a perfect place to study in my opinion, has something for everyone, and going back to Sheffield itself is one of the things exciting me about returning from my year abroad.
---
About your year abroad
How different is the teaching and course structure in Korea compared to at Sheffield?
Sheffield is a lot more laid back in terms of teaching hours, with hours being sporadic, whereas Korea is more structured and lengthy. While having rest/self-study time is good, Korea's course structure works well with me because I find it more effective and it's great to study the language in in the country in which you can practice it. For Yonsei at least, the terms are long, days are short (4 hours, 9-1), but the term breaks are long.
How would you describe student life at your host university?
Life in Korea is as fun and interesting as you make it; there are so many people from different countries to meet and make friends with, so many places to go, things to try. Get outside, make friends; one year goes by very quick.
What skills do you feel you gained from doing the study abroad year?
Language skills are a given, but I feel independence and confidence have been ever-growing since the day I arrived. It's more of a journey to find out about your capabilities and limits, without sounding too cliché. You learn the importance of mistakes and errors and learning from them. I also feel it expands your perception of the world and culture itself; what makes us different from other people and how much you can learn just from being in a country that's not your own.
What do you enjoy most about living and studying in Seoul?
I'm in the country of my dreams, able to speak the language, I love every single day. Seeing as studying Korean used to just be something I did in my free-time, thinking that it's now my degree; the thing I have to do in life, is still to this day unbelievable. Korea is a beautiful country; the food is amazing, the scenery is beautiful and the things to do are endless. I feel so settled and at home here that returning to England is hard to think about.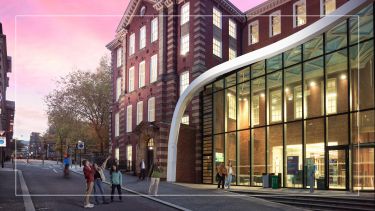 Visit us
Discover what sets Sheffield apart at our undergraduate open days on the Saturday 21 October or Saturday 18 November.