All the lecturers are clearly passionate about their subjects and are more than willing to help students

Luke Wakeman
Undergraduate student
East Asian Studies BA
After visiting on an open day, Luke knew that the welcoming nature and modules available meant that Sheffield was the perfect choice.
What made you want to learn about East Asia?
After years of studying western history and culture at school, I realised I wanted to change things up and study a part of the world I'd never looked at before. I started to become more and more interested in East Asia during my A levels and when I found the course at Sheffield it was the perfect fit.
What attracted you to the University of Sheffield?
The course looked like a good fit for me and when I came for an open day both the department and the university at large were so welcoming.
---
I loved the modules on offer and the whole campus had a great vibe to it, I'd made my mind up by the end of the day!

Luke Wakeman

East Asian Studies BA
---
What do you enjoy most about your course?
The choice of modules are so broad and allow you to really make what you want of the course; I've covered such a variety of topics and fields of study in the last two years: East Asian cinema, contemporary Japanese society and the Chinese cultural revolution to name but a few.
On top of that, the teaching is great - all the lecturers are clearly passionate about their subjects and are more than willing to help students.
What skills have you gained from your course so far?
My academic writing skills have improved dramatically over the last two years and are constantly being developed. My foreign language abilities have also skyrocketed since starting at Sheffield, and as well as learning new East Asian languages, I've come to appreciate languages and linguistics as a whole much more.
What do you enjoy doing outside of your studies? (hobbies, interests, societies)
Outside of uni hours I am a committee member for Forge Radio, the SU radio station and host my own show focused on soul, motown and disco music. Alongside this I attend life drawing classes at an art studio near the university and am an avid chef, always testing new recipes and finding any excuse to have friends over for dinner.
What is Sheffield like to live in? Do you like the city?
Once you get used to the hills, there's nothing not to love about Sheffield! With such a lively cafe culture there's always great places to eat and drink as well as countless museums, galleries, cinemas and more around the city. Plus, with the Peak District being only 15 minutes away it's perfect for walking or climbing if city life gets a bit too much!
What are your ambitions for the future?
After I've finished my undergraduate degree I'm hoping to go on to a masters here at Sheffield, specialising in international relations or a similar field. In the long run I'd like to work for East Asian based NGOs, specifically focusing on human rights issues or education.
Do you have any advice for students thinking about studying East Asia at Sheffield?
Don't be worried if this is something completely new to you. I'd never studied East Asia before starting the course and now I couldn't imagine myself doing anything else. Other than that, just Involve yourself as much as you can with the department and university life- Societies, sports, events, the whole lot! The more you put in the more you get back.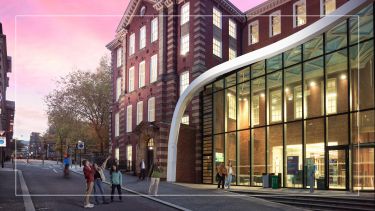 Visit us
Discover what sets Sheffield apart at our undergraduate open days on the Saturday 21 October or Saturday 18 November.