The moment I set foot in the university during an open day, it felt like a second home

Meredith Graham
Undergraduate student
East Asian Studies BA
From the welcoming atmosphere to the excellent application communications, Meredith knew immediately that the School of East Asian Studies value their students.
What made you want to learn about East Asia?
I was drawn to studying East Asia because of my interest in its history and culture, as well as its languages. I have an interest in Japan in particular, and its religions, folklore and popular culture.
What attracted you to the University of Sheffield?
For me, the moment I set foot in the university during an open day, it felt like a second home. I felt immediately welcomed, and SEAS was so brilliant in its communications with us during the application and enrolment process that it made everything feel less stressful.
---
It felt like they really valued their students, and of course I know that to be true after three years here. The city itself is gorgeous and green, with a really lovely balance of city and town. There's always somewhere to explore but also plenty of spaces for peace and quiet.

Meredith Graham

East Asian Studies BA
---
What do you enjoy most about your course?
The variety. I've been fortunate enough to study an incredible array of topics since beginning my degree, from Japanese literature and Korean history, to learning about contemporary North Korea and East Asian popular culture. You're given the opportunity to delve into subjects which interest you whilst discovering new ones.
What skills have you gained from your course so far?
I've gained the ability to manage and prioritise my time far better, in particular when it comes to balancing uni work with my social life and extra-curricular activities. I'm part of SUTCo, the university theatre company, which means that I have to make sure I organise my time around things like socials and rehearsals.
What do you enjoy doing outside of your studies? (hobbies, interests, societies)
I'm a member of SUTCo, the university theatre company, and I've been able to direct two shows and create the lighting design for another, as well as participating as an actor. I enjoy writing and reading, so will often go and sit in one of the cafes in the city or union to do both.
I'm also a member of Japan Society, which has a weekly tandem event at a bar in the city, where we can chat to other students interested in Japan, from our department, and also students studying abroad from Japan.
What is Sheffield like to live in? Do you like the city?
Sheffield is a wonderful city to live in. Everyone has been so welcoming, and the atmosphere here is always friendly and very relaxed. Being right by the peaks means there are some truly gorgeous views here, and there's plenty of cafes, restaurants, shops and attractions in and around the university and city.
What are your ambitions for the future?
My goal is to work in the gaming industry. I'm planning to work in games journalism, and eventually take a role in some capacity at Nintendo. My two loves are gaming and writing, and to be able to combine these would be an absolute dream.
My intention is to move to Japan after graduation and gain the language skills I need to take a role in localisation.
Do you have any advice for students thinking about studying East Asia at Sheffield?
It's brilliant to have an idea of what you're interested in before coming to university, but definitely begin your course with an open mind. See every module you take as an opportunity to learn, and your experience will be even more rewarding.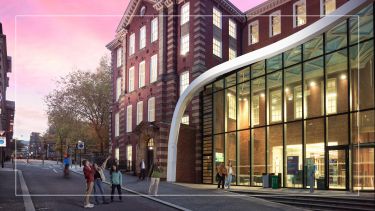 Visit us
Discover what sets Sheffield apart at our undergraduate open days on the Saturday 21 October or Saturday 18 November.