My experience of the Year Abroad at Nanjing University in China

Ryan Blackett
Undergraduate Student
BA Chinese Studies with Japanese
Ryan felt that not only did the year abroad help him increase his language skills, but also helped him become a stronger person.
How different was the teaching and course structure in China compared to at Sheffield?
The classes were taught completely in Chinese at Nanjing, which was a bit of a shock at first, but then later incredibly rewarding when I realised that I could actually understand what was going on. The course was structured across a few key text books, so there was overlapping themes every week. We had required classes of comprehension (grammar and writing), listening and speaking that would take place between 8.00am – 12.00 every day. Then on top of this there were optional classes in calligraphy, international politics, Chinese business, history, HSK preparation, and many more.
How would you describe student life in Nanjing?
I would say it is very active, though a little bit segregated. For example, most of the social activities we were involved in on campus were with other international students, as the campus we are located on is mainly for postgraduate students so it is a little bit quieter. Though there were also multiple social activities organised by the university to give us an opportunity to interact directly with Chinese students. Also, if we travelled to the other campus (around 40-minute metro journey) then we could experience student life from a Chinese undergraduate prospective, as the student union is there. I attended many interesting events there with my Chinese friends. Overall I think it is better to be located in the campus that we go to as it is located in the centre of the city, so you can easily explore the city whenever we finished class.
Did you get the chance to do any traveling whilst you were there?
It is incredibly convenient to travel to other cities from Nanjing as it is very well connected via high speed trains. Depending on how Chinese New Year falls students can get up to two months break during winter, which is a great opportunity to travel around China, or to other places around East Asia. During my holiday I travelled around China, first travelling East and then south, visiting several cities along the way. I also spent a lot of my weekends away from Nanjing too, mostly in Shanghai as it was cheap to take a one hour and fifteen-minute-high speed train there.
What skills do you feel you gained from doing the study abroad year?
The most obvious skill was an increase in my language skills. Apart from these I think the year abroad makes you stronger as a person, been in any foreign country for a year comes with its difficulties and dealing with these really do make you a better person in the end.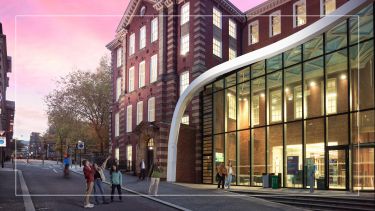 Visit us
Discover what sets Sheffield apart at our undergraduate open days on the Saturday 21 October or Saturday 18 November.