Our language teachers are highly experienced and always push us to keep improving our skills

Rhian Osborne
Undergraduate student
Korean Studies BA
Rhian felt that Sheffield provided the best of both worlds - a traditional university experience combined with a specialist, experienced department.
Why did you choose to study Korean?
I enjoyed studying Spanish at school so I looked into studying a language degree at university. I was interested in learning a new language and was interested in the East Asian languages in general, but Korean was the one which attracted me the most.
I had also been a fan of Korean music and TV for a couple of years and through that I gained an interest in the history and culture of Korea, as well as picking up a bit of the language. Furthermore, I was excited about the idea of doing a more unusual and challenging degree and the opportunity to study abroad.
What attracted you to the University of Sheffield?
The first time I came to Sheffield everyone was friendly and welcoming so I instantly felt at home in both the city and the School of East Asian Studies. I liked that Sheffield has a good balance of green spaces and student nightlife with a reasonably low cost of living.
I felt like at Sheffield I could enjoy the classic British university experience whilst studying in a specialist department with some very experienced lecturers and language teachers.
What do you enjoy most about your course?
My favourite aspect of the Korean Studies course is getting the opportunity to learn a new language from scratch, especially a less common language like Korean. It's an amazing feeling to be able to communicate confidently in another language and I feel a great sense of achievement when I think about how much I've improved since the first day of class.
How have you found learning a new language?
Learning a new language from scratch can be very daunting and is certainly not easy, but our language teachers are highly experienced and always push us to keep improving our skills.
Sometimes you don't realise your Korean is getting better until you stop and think back to when you started. It's a continuous process and I have had to put in a lot of practice independently, but it's worth it.
What is Sheffield like to live in? Do you like the city?
Sheffield is a great place to live in as a student. The cost of living here is reasonably low, there's always a lot going on, there are lots of green spaces and the Peak District is nearby.
---
I spend most of my time in and around the university area and it has pretty much everything I need – the Students' Union itself has lots of places to eat and study in.

Rhian Osborne

Korean Studies BA
---
What are your ambitions for the future?
I don't have any set plans for my future yet, but I am currently looking into a career in diplomacy and international relations, in institutions like the Foreign & Commonwealth Office and Government Communications Headquarters. I would love a job in which I could live in Korea again and would have many opportunities to use my language skills and cultural knowledge.
Do you have any advice for students thinking about doing Korean Studies at Sheffield?
My advice for students thinking about doing Korean Studies at Sheffield would be to not worry about your level of Korean before you start the course and to focus on achieving the grades you need to come here rather than learning lots of Korean.
I would also say that as Korean is a somewhat unusual course there may be some people in your life who won't understand, but if you are truly passionate about studying Korean culture and learning the language then do not let that stop you from choosing Korean Studies as your degree.
---
About your year abroad
How different is the teaching and course structure in Korea compared to at Sheffield?
The course structure in Korea is very different to Sheffield. I attended Korea University and took three ten-week semesters of intensive Korean language from September to May (I did Level 3, 4 and 5). Classes were from 9 am to 1 pm, five days a week. Our classes were quite small, around ten to fifteen students from various countries in each.
We studied reading, writing, listening, speaking and grammar every day and covered a different topic each week, such as 'environment', 'health' and 'cinema'. The quality of teaching was excellent and all the teachers were friendly and helpful. Unlike Sheffield, in Korea you do not take any classes in English and do not study Korean culture academically.
How would you describe student life at your host university?
Student life was really fun at Korea University. The surrounding area is very catered to students, with cheap restaurants, cafes and bars. Korea University has an international students' society run by Korean students, which runs a variety of dinners, drinks and activities (such as going to a theme park, riding bikes along the Han River, and holding an international students' festival).
Korea University also competes against Yonsei University in varsity matches which we could go watch, and holds a festival every summer where the whole university gather to watch famous Korean artists perform (I saw Psy, Blackpink and Mamamoo to name a few!)
What skills do you feel you gained from doing the study abroad year?
I gained so many skills during my year abroad. Of course my Korean language skills improved from beginner to advanced, but I also greatly improved in confidence, independence and problem-solving from travelling independently and having to adapt in a new country. I also feel like my worldview widened after meeting people from around the world and discovering our differences and similarities.
What did you enjoy most about living and studying in Seoul?
I loved so much about living and studying in Seoul. The food was a highlight and I really enjoyed having class with and making friends with so many people from all over the world. If I had to pick my favourite thing it would be experiencing new things and going to new places almost every day.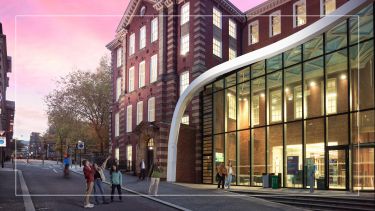 Visit us
Discover what sets Sheffield apart at our undergraduate open days on the Saturday 21 October or Saturday 18 November.