Being a small department allows us to develop a close-knit community of staff and students and provide a friendly, supportive atmosphere. Whilst we may be small, we are a truly international department with staff and students coming together from across the globe to learn about East Asia.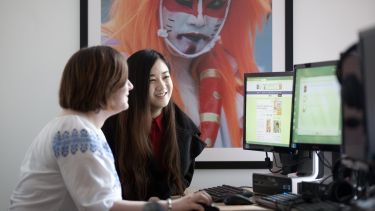 On
We have designed our curriculum with academic and transferable skills in mind to ensure you graduate with the attributes employers are looking for.
Each year of your degree has a specific skills development focus from basic academic and transferable skills in the first year, through to research skills and language skills for the workplace in your final year.
Level 1
At level 1 you will develop core academic and transferable skills which will help you throughout your degree and in your future career, including:
Critical thinking
Information and digital literacy
Making an informed argument
Academic research
Time management
Visual literacy
Level 2
At level 2 you will develop your understanding of your chosen country and begin to explore disciplines such as history, politics or culture in more detail. Your modules will help you develop disciple specific skills which may include:
Understanding economic and business models
Analysing policy and writing policy briefs
Critiquing visual art such as film
Forming and debating a coherent argument
Level 3
At level 3 (your final year) your studies modules will focus on developing your research skills which will prepare you for your dissertation. These skills may include:
Project management
Analysis
Data mining
Report writing
Problem solving
Team work
In language classes you will focus on developing key skills needed for the working environment. You will have classes and projects focusing on:
CV writing
Presentation techniques
Translation and interpreting
Report writing
Find out about your career prospects as a SEAS graduate and other opportunities to develop your skills.
---
In every year of your degree you will spend 50% of your time in language classes to ensure that you graduate with a high level of language proficiency.
Classes are taught in small groups allowing you plenty of chances to practice with your classmates and gain feedback from your tutors. You will start by focusing on reading, writing, listening and speaking, working with qualified native-speaker language teachers in preparation for your year abroad.
As you develop through your course you will also be taught by non-native speakers who have been through the same process of learning the language and have special insights into the challenges you might face. You will also be introduced to advanced topics such as translation, interpretation and workplace language skills such as CV writing and presenting.
We have a long tradition of pioneering innovative methods for the teaching of East Asian languages that support learning from absolute beginner to the most advanced levels. This often results in our students successfully competing at the high level language proficiency competitions and our staff being recognised for their expertise through awards.
Non-specialist options
If you decide to focus you degree on East Asian culture and society instead of language through our East Asian Studies course, you can still take non-specialist language modules which allow you to learn Chinese, Japanese or Korean at a less intensive pace.
Read more about our staff and students' achievements
---
All our degrees include a period of study in China, Japan or Korea allowing you to immerse yourself in the country you are studying.
Our language intensive courses include a full academic year in country studying at a highly ranked university in China, Japan or Korea. The year abroad offers you an unrivalled opportunity to improve your language skills; in particular, your spoken skills. It will also give you valuable insights into the country and its people.
On top of developing language skills and learning more about the country, the year abroad has help student to grow their confidence and self-reliance and helps them build skills in adapting to new situations and taking on new challenges. These are all attributes which are highly sought after by employers. 
Our East Asian Studies programme involves a fully-funded field trip to East Asia in the second year of the degree.
The field trip could be in either China, Japan or Korea and will give you the opportunity to immerse yourself in the country whilst undertaking some in-country research. All trips will be accompanied by members of academic staff.
Learn more about our periods of study in East Asia
---
The flexibility of our courses means you can tailor your degree with a humanities or social sciences focus depending on your interests, whilst developing a high level of language proficiency in your chosen East Asian Language.
The wide variety of world-leading academic scholarship within our school means we are well equipped to teach East Asian History, Culture, Politics, International Relations, Society, Business and Economics at every stage of your undergraduate degree.
Find out more about our staff's research expertise
Level 1
At level 1 you can study China, Japan or Korea in a social sciences or humanities context through our 'Understanding China/Japan/Korea' modules. Each module will focus on a core text which has played a significant role in developing an intricate understand of the chosen East Asian country.
Topics which may be covered:
History, media, culture, literature
Politics, economy, business
Level 2
At level 2 you will get the chance to explore your country of choice in more detail through optional studies modules which complement your language training. we have a variety of modules which cover culture, politics, history, business. literature, society and gender. 
Level 3
You will have the opportunity to bring together the knowledge you've gained throughout your studies modules in a research project based on a Humanities or Social Sciences based topic.
---
No country exists within a vacuum which is why we believe that to truly understand how China, Japan or Korea operates, whether in business, politics or in wider society, you need to have an understanding of the wider East Asia region.
We have developed our courses to ensure that you are provided with essential knowledge of the East Asia region, its history, politics, geography and culture in your first year. This will give you a greater understanding of your chosen country of study, what shaped it and how it may develop in the future.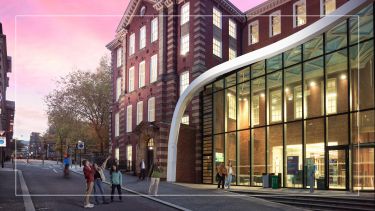 Visit us
Discover what sets Sheffield apart at our undergraduate open days on the Saturday 21 October or Saturday 18 November.