We measure mouse serum bone biomarkers such as bone resorption marker Trap5B and bone formation marker P1NP. Our associated partner the Bone Biochemistry Lab, led by Professor Richard Eastell, has great experience in the analysis of bone biomarkers in patients.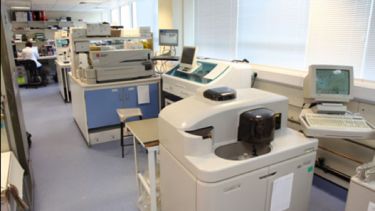 The Bone Biochemistry Lab
Led by Professor Richard Eastell, this lab is part of the Academic Unit of Bone Metabolism. It is located in the Mellanby Centre for Bone Research, the University of Sheffield Medical School.
In addition to the facilities and equipment for carrying out manual immunoassays, the laboratory is equipped with four automated immunoassay analysers. This equipment enables us to carry out high throughput measurements of bone turnover markers and associated analytes such as vitamin D and parathyroid hormone.
The experienced laboratory staff work with investigators to give advice on
the most appropriate markers
the collection and storage of samples
the interpretation of results
We collaborate and provide a service with other departments within the University and with external institutions and industry.
The laboratory participates in the United Kingdom National External Quality Assessment Service (UK NEQAS) and the 25 Hydroxyvitamin D External Quality Assessment Scheme (DEQAS).
Contact
Email: f.gossiel@sheffield.ac.uk
Phone: +44 114 2713783 or +44 114 2712733
Flagship institutes
The University's four flagship institutes bring together our key strengths to tackle global issues, turning interdisciplinary and translational research into real-world solutions.