The School of Languages & Cultures is keen to recruit the highest calibre early career researchers, supporting candidates via a number of externally funded research fellowship schemes and enabling them to become the research leaders of the future.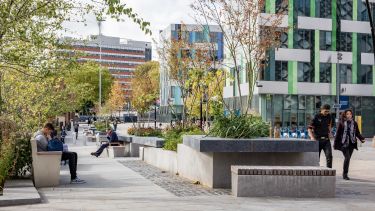 The School
Our School has a thriving research community of academic staff and postgraduate students. We engage in research which spans a wide range of languages (Catalan, Czech, Dutch, French, German, Luxembourgish, Portuguese, Russian and Spanish), geographical regions (Europe, the Americas, Africa and the Middle East) and disciplinary and thematic specialisms (Intellectual History and Politics; Linguistics; Migration, Culture and Community; National and Transnational Literatures; Visual Cultures, Film and Performance).
The School is housed within the Faculty of Arts and Humanities, which comprises the departments of History, Philosophy, and Music; the schools of English, East Asian Studies, and Languages and Cultures; and the institution-wide language programme.
---
What are research fellowships and why should I apply for one?
Whilst research grants tend to focus primarily on funding a research project, fellowships tend to focus more on the individual and provide a large amount of dedicated time to focus on individual research.
An early career fellowship is a great route into a research career. Winning a fellowship is a way to proactively create a job for yourself without relying on the academic job market
Fellowships allow you to pursue your own research agenda, gain valuable experience, build your CV to put you in a strong position to apply for permanent posts. 
Fellowships are usually 'responsive mode', which means that the applicant decides the research topic (as long as it is within the funder's remit). Early career fellowships usually operate on an annual funding cycle, with call deadlines at the same time each year. You apply with the support of the 'host' institution, and will usually work closely with an academic mentor or supervisor, both on your application and throughout the lifetime of your project.
Learn more about working and living in Sheffield, as a city. There are also benefits of working at the University of Sheffield.
Candidates interested in applying for a Fellowship hosted by the University of Sheffield are encouraged to contact Alex Goode, the Research Hub Manager on artsresearchhub@sheffield.ac.uk, copying in our Departmental Director of Research and Innovation, Dr Lauren Rea, l.rea@sheffield.ac.uk and our Research Officer, Claire Leavitt, c.leavitt@sheffield.ac.uk.
Please include the following information:
Details of your proposed mentor (see our Find a supervisor page to source possible mentors)
One-page project outline
Your CV
---
Leverhulme Early Career Fellowships

This call is now closed but runs on an annual basis. Information will follow for the next round in Summer 2023.

Leverhulme Trust Early Career Fellowships (ECFs) aim to provide career development opportunities for those who are at a relatively early stage of their academic careers, but who have a proven record of research. These three-year Fellowships provide an exceptional opportunity to develop as an independent researcher, and will have a significant impact on future career trajectory. The expectation is that Fellows should undertake a significant piece of publishable work during their tenure, and the project put forward should therefore not be a reworking or mere extension of the candidate's doctoral research project.
Flagship institutes
The University's four flagship institutes bring together our key strengths to tackle global issues, turning interdisciplinary and translational research into real-world solutions.