German Translation Competition 2022
We are delighted to announce the third University of Sheffield German Translation Competition for Year 12 and Year 13 students in the UK.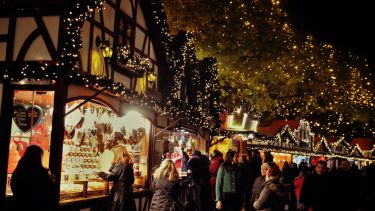 Off
---
2022 Winners
Congratulations to the 10 winners of our German Translation Competition! They are (in alphabetical order):
Melvin Ackah, Harrow School
William Alexander, The Grammar School at Leeds
Elizabeth Allen, Bourne Grammar School
Hana Alloo, Woodford County High School
Danial Aspandiiarov, Harrow School
Kitty Brown, Yarm School
Matilda E. Jenkins, The Maynard School
Jamie McIntosh, Royal Grammar School Newcastle
Cian Sutton-Johal, Repton School
Neha Zuberi, Lancaster Girls' Grammar School Sixth Form
We received a very high number of entries for the competition and very much enjoyed reading them! As ever, the overall standard was impressively high. Many thanks to all of you who entered the competition.
A fair copy of the translation, based largely on the best entries, is available below, followed by a few remarks on the main translation issues that arose in it.
Unfortunately, we cannot provide feedback on individual entries.
---
Introduction to the source text
Sharon Dodua Otoo, Adas Raum (Berlin: S. Fischer Verlag, 2021)
Adas Raum is a novel which moves through time and place to interweave the stories of four young women called Ada: a young mother in a West African village sees the earliest invasion of Portuguese slave traders; Ada Lovelace, the world's first computer-programmer, has a complicated love-life in 19th-century London; the third Ada struggles for survival amid the violence of a Nazi concentration camp; and finally, in 2019, Ada – whose Ghanaian father loves everything German - tries to make a new life for herself in Berlin. In a further twist, the lives of the four protagonists are narrated by four inanimate objects: a broom, a door-knocker, a room and a passport. This extract is set in contemporary Berlin and narrated by Ada's recently acquired British passport, as Ada struggles to share a small flat with her half-sister Elle. The novel is by turns ebullient and harrowing, but always fascinating. Sharon Dodua Otoo confronts the reader with a view of history – and our contemporary world – shared by those on the margins of power. This is the first novel in German by the Berlin-based English author, who started her German-language journey at secondary school in the UK. Since 2016, when she won the Ingeborg Bachmann Prize for her short fiction, she has been recognised as a major new voice in German writing.
See here for a Goethe Institut interview with the author (18 mins)
Original Text

Der Tag, an dem Ada aus Elles Wohnung ausziehen würde, konnte nicht früh genug kommen. […] Elle lebte chaotisch. Die meisten Tage begannen so, wie dieser auch angefangen hatte: Elle auf der Suche nach etwas, das sie an einem >>sicheren<<  Ort verstaut hatte; ihr Kopf leicht zur Seite geneigt, Zunge zwischen den Zähnen, ihre Augen auf Gott gerichtet. Überhaupt nahm sie die Sache mit dem Bestiz nicht so genau. >>Dafür ist das Leben zu kurz<<, sagte sie immer wieder. Sie bediente sich unbesehen der Sachen anderer, kaufte allerdings auch viel (immerhin überwiegend gebraucht) und teilte, ohne zu zögern. Vielleicht würde sie ihre heißgeliebten Bücher, CDs oder Kleidungsstücke zeitnah zurückbekommen, vielleicht auch nicht. Ihr war es egal.

Ada hingegen hatte Anfang des Jahres nur das Nötigste mit nach Deutschland gebracht, darum war ihr Hab und Gut (angenommen, es lag nicht irgendwo zwischen Elles Klamotten) immer fein sortiert und gestapelt; oder sauber, gebügelt und sorgfältig gefaltet; oder frisch geschleudert und strammgezogen an der Wäscheleine. Für meine Wenigkeit hatte Ada sogar direkt bei der Ankunft in Tegel eine Klarsichthülle besorgt. Als einer der letzten britischen Pässe mit der Aufschrift >>Europäische Union<< sollte ich noch sehr, sehr lange wie neu aussehen.

Obwohl drei Jahre jünger, war Elle tatsächlich größer als Ada, wesentlich eleganter, und sie war stolz auf den mittelgroßen Leberfleck unter ihrem linken Nasenloch. Ada hatte eine Lücke zwischen ihren Vorderzähnen und eine Narbe an der Stirn. Elle lebte vegan. Sie jobbte Teilzeit im Bio-Supermarkt, trug Hanf-Sneaker und demonstrierte regelmäßig gegen Massentierhaltung. Eigentlich wusste sie es besser, trotzdem bot Elle immer noch gelegentlich an, Ada das Jollof-Reisgericht mit geräuchertem Tofu zuzubereiten. Ungünstigerweise passierte das oft, wenn Ada gerade dabei war, Rindfleischstücke in grobe Würfel zu schneiden. Das Schlagen der Klinge auf das hölzerne Schneidebrett tönte dann wie abgefeuerte Kugeln. 

(296 words)
Translation

The day on which Ada would move out of Elle's flat couldn't come soon enough [...] Elle lived in chaos. Most days began in the same way as this one: Elle hunting for something which she had tucked away in a "safe" place; her head tipped a little to one side, tongue between her teeth, her eyes cast heavenwards. In general she wasn't at all concerned about who owned what. "Life's too short for that" was a phrase she liked to repeat. She used other people's belongings without batting an eyelid, but she also bought a lot of things (even if they were second-hand for the most part) and shared without hesitation. Maybe she would get her precious books, CDs or clothes back soon, but maybe not. It was all the same to her.

Ada, by contrast, had only brought the barest essentials with her to Germany at the start of the year. That's why her possessions were always in perfectly ordered neat piles (provided they were not lying in a confused jumble with Elle's clothes); or they were clean, ironed and carefully folded; or freshly spun and stretched out tautly on the washing line. For yours truly, Ada had procured a transparent plastic sleeve as soon as she landed at Tegel (airport). As one of the last British passports to bear the inscription "European Union", I was to be kept in mint condition for a very, very long time to come.

Although three years younger Elle was, in fact, taller than Ada, and far more elegant; she was proud of the medium-sized beauty spot under her left nostril. Ada had a gap between her front teeth and a scar on her forehead. Elle was vegan. She had a part-time job in an organic supermarket, wore hemp trainers and regularly took part in demonstrations against factory farming. Although she knew better by now, Elle still occasionally offered to make Ada Jollof Rice with smoked tofu. Unfortunately, that tended to happen just as Ada was chopping pieces of beef into rough cubes. Then the pounding of the blade against the wooden chopping board sounded just like gunfire.

Some remarks on the translation

In general we were very impressed with the standard of this year's entries. Most people submitted a really good translation and it was a hard job to whittle it down to the top ten. The level of overall comprehension was excellent: the tricky parts were with words which have an idiomatic usage which is different to their literal translation.

For the unusual aspects of the text (the talking passport, the gunfire sound at the end) we were pleased to see some inventive solutions. Our model translation is just one set of possibilities; there were many other good translations put forward. Here is a summary of the common errors and interesting solutions (in order of appearance):

Unbesehen - literally 'unseen' but here it means without blinking / without batting an eyelid / without hesitation

es lag nicht irgendwo zwischen Elles Klamotten - 'Es' refers to 'Hab und Gut' ie: the sum of someone's possessions ('worldly goods' would be a possible translation). We also liked 'hiding somewhere amongst the tumult of': although not quite accurate we liked the idea that the mess was a riot of stuff.

Frisch geschleudert - Schleudern does mean to fling or throw, but it is also the verb for a washing machine spinning. Many people understood this from the context and offered "freshly spun", but there was quite a bit washing being thrown about …

Leberfleck does translate as mole and 99% of people did so, but here 'beauty spot' or 'beauty mark' would have been more appropriate - only one person chose this solution!

Hanf-sneaker - some people decided Hanf was a brand. It means hemp - a popular shoe material for people who avoid leather.

Für meine Wenigkeit - For my humble self: the passport is referring to itself here. We also liked the humorous tone of "yours truly".

direkt bei der Ankunft in Tegel - as explained in the introduction, this excerpt is narrated by a passport. One lovely solution here was to say "as soon as we arrived at Tegel airport" or "immediately after our arrival at Tegel" with "we / our" referring to the passport and the passport-holder Ada.

größer als Ada - In this context groß means tall rather than big. One sister is tall and slim, the other short and rounded.

Das Schlagen der Klinge auf das hölzerne Schneidebrett - here, we liked "the impact"/ "the blows"/ "slamming" of the blade. "Pounding" was nice because it emphasised the repeated action.
The prize
The winners received a prize of a £25 Amazon voucher and an invitation to take part in a special Translation Workshop organized by the School of Languages and Cultures at the University of Sheffield, involving German academics, Masters students in Translation Studies and alumni who work in translation-related fields. The Workshop was held on Wednesday 7th December 2022.
The judges
The translations were read and judged by a panel of German experts from the School of Languages and Cultures at the University of Sheffield. 
About the competition
The competition runs annually and is open to students of German in Years 12 and 13 in the UK. Entrants must translate into English an original German text that has not previously been published in English.  Translations must be the original work of individual students, and submitted via an online entry form.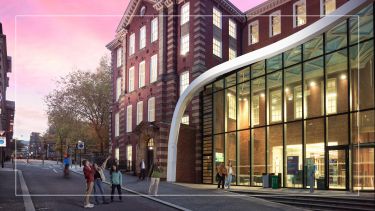 Visit us
Discover what sets Sheffield apart at our undergraduate open days on the Saturday 21 October or Saturday 18 November.