French & Francophone Studies
The French language is spoken by 270 million people worldwide – from arctic Canada, through Europe and Africa, to the islands of the South Pacific.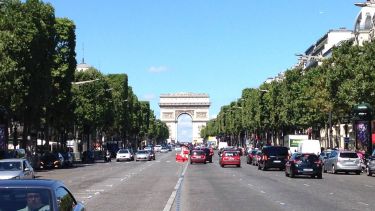 The global influence and diverse developments of France and Francophone cultures remain a key feature of the modern world – from politics, literature and film to international trade, social policy and philosophy.
At Sheffield, we believe languages are best studied in context - ensuring both linguistic fluency and a deeper cultural understanding. With our French undergraduate degrees, you won't just become a confident user of a different language, you'll be a confident international citizen and will add new perspectives to your understanding of the world and its people.
More about French at Sheffield
Undergraduate degree combinations
BA Modern Languages & Cultures

On the BA Modern Languages & Cultures you can study:

French language & culture only
French language & culture with one other language & culture
French language & culture with two other languages & cultures

Choose from these languages:

German
Russian
Spanish
Portuguese
Catalan
Dutch
Luxembourgish* (from second year only)
Czech
Italian

Dual Honours (with a non-language subject)

As a Dual Honours degree:

French language & culture with a non-language subject
French languages & culture, a second language & culture, and a non-language subject

Combine your study of French language & culture with one of the following:

Archaeology
Business Management
Economics
English
History
Linguistics
Music
Philosophy
Politics

Free Credits

If you have some experience of modern language learning, you can take French language & culture modules either as part of your degree (unrestricted modules) or alongside your degree (not-for-credit modules).
Fast facts
Award: Bachelor of Arts
Duration: 4 years
Entry: ABB at A Level. We also accept a wide range of other qualifications. See individual degree programmes for more detailed information.
Level of Study 
Post A-level

Year One

For post A-level students, the first year helps you make the transition from A-Level to university study, while showing the possibilities offered by studying French at Sheffield. We provide you with a solid grounding in language study while introducing you to the academic skills needed for your degree. The core units combine intensive study of the French language with lectures and seminars on French and Francophone society and culture.

Year Two

You continue to further develop your language skills and select from a range of specialist modules on history, literature, translation and society - see modules below for more detail.

Year Three - Year Abroad

Depending on your degree programme, you will spend either one or two semesters in a French-speaking country. You can study at a university, pursue voluntary work, do a work placement or work as a language assistant in a school.

Year Four - Final Year

You will have three hours of tuition in French per week. One hour focuses on developing composition and creative-writing skills in French, a second hour is dedicated to translation and the third hour focuses on spoken French.
There are further opportunities for specialist study, alongside core modules designed to develop sophisticated language use across a range of topics. Most students will choose at least two optional modules from the broad range on offer.

Beginners

Year One

You will take four hours of interactive language classes per week conducted in a mixture of French and English, which provide you with a solid grounding in speaking, listening, writing and reading skills. You will also have a structured programme of independent study and regular feedback on your progress and work. These classes and lectures are supplemented by one hour of lectures per week on French and Francophone history, society and culture.

Year Two

You will take four hours of interactive language classes a week conducted in a mixture of French and English. The core language modules are complemented by a range of option modules that allow you to develop your cultural knowledge and awareness of the French-speaking world.

Year Three - Year Abroad

You can choose the same options outlined on the advanced pathway.

Year Four - Final Year

After the immersive and transformative experience of the year abroad, the two pathways join and all students have the same options as described above.
Modules
You will study 40 credits in language and culture at either beginner or post A level.
Beginner's French & Francophone Studies
Title
Credits
Core/Optional
French Language Beginners
20
Core

Introduction to French History and Culture
The lectures on this module will introduce you to the historical events, values and ideas that have informed French society and other Francophone cultures since the eighteenth century through a range of different texts and media.

20
Core (if you are studying one or two languages and cultures)
Optional (if you are studying three languages and cultures)
Post A-Level French & Francophone Studies
Title
Credits
Core/Optional
French Language Post A-Level
20
Core

Understanding Modern France (I & II) 
The lectures on this module introduce you to the broad sweep of French history from Louis XIV to Emmanuel Macron. The lectures in English engage critically with the key ideas and expressions of the major movements in French and Francophone culture. A second seminar hour in French enhances the lectures by close readings of diverse French texts and media illustrating significant historical and cultural shifts. You will learn the interpretative methodologies specific to different forms of analysis, giving you a solid grounding for specialisation in Year 2 and onwards.

20

Core (if you are studying one or two languages and cultures)
Optional (if you are studying three languages and cultures)
You may also choose from the following:
Title
Credits
Core/Optional

French Critical Contexts 

Each semester this module takes two major French 'texts' (novel, film, painting, etc.) as its central focus of study and sets them in specific 'critical contexts', giving students a clear set of critical tools with which to carry out their analyses. The principal text is then also considered in a different media – e.g., a book adapted into a film – to see what this tells us about its construction and value systems. Recent 'texts' include: Mme de Lafayette's La Princesse de Montpensier; a section of Hugo's Les Misérables; Sarah Kofman's Rue Ordener, Rue Labat; the film Monsieur Klein; the bande dessinée Le Tour de Gaule d'Astérix; and Hocine Zaourar's news photo La Madone de Bentalha.

The texts are available in French and English. Post-A-Level students are expected to use the French-language materials. The module is strongly recommended for Beginners' French students.

20
Optional

Introduction to European Film

This module has a strong French component, drawing on French cinema classics, from the 1950s auteur tradition to more recent popular and avant-garde productions

20
Optional
You may also choose from a range of modules from across the School of Languages and Cultures.
French Language Intermediate (following beginners' French route)
| Title | Credits | Core/Optional |
| --- | --- | --- |
| French Language Intermediate | 20 | Core |
French Language Higher Intermediate (following post A level French route)
| Title | Credits | Core/Optional |
| --- | --- | --- |
| French Language Higher Intermediate | 20 | Core |
Depending on your degree programme and language combination you may take up to 80 credits from the option list below.
Title
Credits
Core/Optional

La Francophonie: Langue, Colonie et Civilisation 

Taking as its focus the current institution of francophonie, this course seeks to subvert the standard textbook presentation of francophonie as an addition to French Studies courses through an exploration of the politics and polemics which have followed the idea of francophonie since its inception. Perceptions of the role of the French language is central: while francophonie is presented as an element of globalisation, the fact of using French remains tied to unresolved questions of power, identity and politics. Building upon critical awareness and knowledge of sub-Saharan African perspectives developed in the first semester, students will examine the very different debates over francophonie in North Africa in the second semester.

20
Optional

France in the Fifties 

The course examines the 1950s as a `watershed ́ period ́ in French cultural history. It was an era characterised by exciting innovations in film and literature and thought; a `nouvelle vague ́ of cultural practice challenging and usurping sclerotic formulae of the past and setting the parameters for the anti-establishment discourses characteristic of the 1960s and 1970s. This course is structured around materials representing a range of themes, discourses and expressions characteristic of innovatory cultural practice of the 1950s. Students will engage in detailed analysis of cinema, literature and philosophy texts as well as materials associated with the mass media of press, radio and television. The module aims to enable students to make an informed evaluation of the importance of the 1950s as a seminal decade of cultural and social change in France by way of a detailed examination of the cultural production of the era.

20
Optional

Translation in Theoretical Context

This module considers the practice and analysis of translation of specialised documentation (commercial and technical translation), creative writing (literary translation) and the translation of hybrid text genres such as websites or advertisements, from French into English. This module will give students a solid grasp of the technical and cultural issues surrounding the practice of translating French texts into English and provide students with a solid foundation in translation theory. This module is taught and assessed in English.

20
Optional

Writing the French Revolution

This module introduces students to the major events of the French Revolution (1789-1799) as perceived and recorded by a diverse range of writers, artists and thinkers at the time. It examines how the Revolution was experienced first-hand and how it is subsequently represented by successive generations of French writers, artists and thinkers, often in contrasting fashion, as a cipher for ongoing ideological and cultural conflicts.

20
Optional
And choose from year 2 School-wide modules
You will spend either one or two semesters in a French-speaking country on your Year Abroad and can:- 
Study at a university
Studying abroad at a university allows you to experience the familiarity of student life with the excitement of living in another country. University life varies enormously across the world, however wherever they go, our students develop international networks and life-long friendships. Courses at international universities expose our students to new ways of studying, learning, and interpreting the world.
Gain work experience
Work placements provide you with the opportunity of gaining employment experience as both a professional and an internationally competent graduate. Types of work experience may vary hugely, from translation to consultancy and everything in-between. Work experience may be paid or voluntary, depending on type of work, organisation and location. 
Teach English with the British Council
The British Council is an international government institution designed to promote British culture around the world. With the British Council, students will teach English to a variety of age groups in their host country. This allows students to have in-depth engagement with locals, as well as experience the world of international work. Main counties that participate are: Austria, France, Germany and Spain. There are also a small number of placements in Argentina, Belgium, Canada, Chile, Colombia, Ecuador, Mexico and Switzerland.
French Language Advanced (All students)
| Title | Credits | Core/Optional |
| --- | --- | --- |
| French Language Advanced | 20 | Core |
Depending on your degree programme and language combination you will take a minimum of 20 and a maximum of 100 credits from 
Title
Credits
Core/Optional

Littérature moderne: thèmes et idées I

A partir de la fin des années 1970, la littérature française semble renoncer à s'occuper du réel. On lui reproche alors son nombrilisme (la catégorie d'autofiction date de ces années-là), ou encore son formalisme, à la suite des expérimentations du nouveau roman. Ces années sont aussi marquées, politiquement, par la décrédibilisation du communismeet la fin des utopies de gauche héritées de mai 68, autant d'idées qui avaient été portées par une génération d'écrivains qui vont s'éteindre dans les années 80 (Sartre, Aragon, par exemple). L'idée que la littérature peut dire (et changer) le monde semble démodée. La
littérature semblait s'être repliée sur le domaine de la vie privée et du divertissement.On assiste pourtant, ces dernières années, au retour d'une littérature ambitieuse, se donnant à nouveau pour ambition d'envisager la complexité des rapports sociaux replacés dans leur contexte politique et culturel. Les livres que nous étudierons sont les témoignages d'un "nouveau réalisme" qui prend à bras le corps les questions qui occupent le débat public en France. Ils sont traversés par des interrogations communes: qu'est-ce qui nous lie culturellement? comment vivre sur les décombres d'utopies perdues? qu'est-ce qui détermine l'identité française, si elle existe? Comment peut-elle se transformer? la littérature peut être l'une des meilleures façon de le comprendre.
Exemples d'auteurs étudiés: Virginie Despentes, Michel Houellebecq, Annie Ernaux, Edouard Louis.

20
Optional

Realities and Falsehoods: The French Occupation in Literature and Film I

The first of these two linked modules aims to enable students to critically interrogate how historical 'truths' were perpetuated and distorted to serve ideological purposes through censored and clandestine cultural production during the Nazi Occupation of France. In particular, students will pay close attention to any conspicuous divergence into propaganda and myth. Students will be introduced to specialist critical material in the field of life writing, film and literature and historiography as well as to a range of novels and films produced during the Occupation.
The second module builds on the first, enabling students to critically interrogate how the truths and myths of the French experience of Nazi Occupation were perpetuated or disavowed to serve ideological purposes in cultural production under the Fourth and Fifth Republics. Students will seek to identify how the myths they identified in Occupation discourse in the first semester are challenged or perpetuated by post-war historians and by writers and filmmakers. Students will be introduced to specialist critical material in historiography as well as to a range of novels and films produced between 1946 and the present day.

20
Optional

Film Studies

Examining a selection of films (normally 4 per semester) from 1995 to the present day, this module addresses the status of cinema in France today. Through a range of critical frameworks - the construction of the director as 'auteur', the use and subversion of film genre conventions and the capacity of film to both represent socio-economic realities and articulate resistance to them.
There is no need for previous experience of film studies, yet these films will be studied with particular emphasis on the contribution of film language to the construction of meaning, and students will be introduced to key thematic areas, such as the filmic manipulation of time and space, the representation of social relationships, the construction of identity and the use of image, sound and music.
Students will be introduced to key writers and ideas in film and cultural theory and to recent work in genre studies and socio-political cinema. A set of four films related to these areas will be analysed in close detail on each semester. Films studied may include: La Haine (1995), Drole de Félix (2000), Caché (Haneke, 2005) De Rouille et d'os (Audiard, 2012) and Bande de filles (Sciamma, 2015).

The module is taught and assessed in French.

20
Optional

Gender, Society and Economy in France 

These two linked modules aim to give students a broad introduction to the way in which gender structures the social and economic lives of individuals in France from both a theoretical and empirical standpoint, focusing on the family, social policy, employment and employment policy and leisure.
Furthermore, students will have the opportunity to undertake more specialised work in areas of particular interest to them. The course consists of a series of lecture-type sessions in which the principal concepts, theories and background information for topics is presented. In preparation for these sessions, students are guided to background reading which allows them to work in small discussion groups during these classes.
In addition, there will be a number of workshop sessions. This course is taught and assessed in French.

20
Optional

Literature and Politics of the 'Post(-)Colonial 

This course has two components. The first semester tackles probably the most problematic aspect of studying "post-colonial" literature, culture or society: what the term "post(-) colonial" actually means. We will use a selection of texts from various genres and various parts of France's former empire to examine the nature of the post(-)colonial, with a focus upon postcolonial theory and its relationship with issues such as identity, nationalism, race and voice. And the second semester looks at a particular case study which considers the intricate history of Haiti and France from the colonial period up until the present day. The focus of the semester will be to analyse the historical development of the Haitian nation via the prism of Western imperialism and especially French colonial and post-colonial history. Through the analysis of historical works but also of works of political science and works of fiction, this part of the module will review the tragic history of Haiti and the ways in which this tragedy is closely intertwined with French imperialism and the development of global capitalism.

The course is taught and assessed in French.

20
Optional

Contemporary Visual Arts in France

This module focuses on contemporary art from the French-speaking world and project management in the cultural industries. In the first semester, students are assessed on a group exercise, which involves designing and delivering a virtual exhibition, a podcast, a curatorial essay and learning materials for visitors to their exhibition. In the second semester, students are assessed individually across two pieces of work, including a magazine-style exhibition review and a reflexive learning journal. Students learn how to use project management software, sound editing software and Google Sketchup. Students do not need to have a background in art to take this module, but should be interested in learning what makes a good exhibition and how complex events are managed in the cultural and creative sectors. The module is delivered in English. Written components of the assessment will be in both English and French.

20
Optional
And choose from year 4 School-wide modules
The content of our courses is reviewed annually to make sure it is up-to-date and relevant. Individual modules are occasionally updated or withdrawn. This is in response to discoveries through our world-leading research, funding changes, professional accreditation requirements, student or employer feedback, outcomes of reviews, and variations in staff or student numbers. In the event of any change we'll consult and inform students in good time and take reasonable steps to minimise disruption.
Information last updated: 17 July 2020
---
Course search
Explore. Challenge. Influence. Find the right course for you.