Italian is considered by many the most romantic and musical language in the world. It is the language of one of the richest culinary traditions but also of classical music, art history, design and fashion.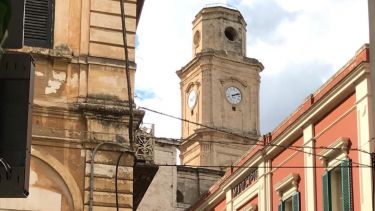 Italy has the greatest number of UNESCO World Heritage Sites in the world and continues to charm with its breath-taking landscapes and cities rich in art and history.
Undergraduate degree combinations
BA Modern Languages & Cultures

On the BA Modern Languages & Cultures you can study Italian as a combination with the other 9 languages we offer. The Italian portion will be 40 credits in first year, and 20 credits in subsequent years. 

One language and culture. You choose from French, German, Spanish or Russian and study compulsory modules in both language and culture in your first, second and final years. Each year you configure the rest of your programme from further culture options in your language, or choose optional modules from across the School of Languages and Cultures or from the wider University. You spend your third year abroad.

Two languages and cultures. You'll study any two languages and cultures from our choice of 10 (20 credits for Italian).  You take modules in both language and culture in your two choices in your first and second year.  You usually spend your third year in two different countries where your languages are spoken (with the exception of Italian). In your final year you take languages modules in both languages and a culture module in at least one language. Each year you choose additional optional modules to create your own bespoke programme of study.

Three languages and cultures. The structure is the same as the two language option but you also take a language module in your third language in your first year (20 credits for Italian). In your second and final year you continue to study language modules in all three languages.  You will take a culture module in at least one of your languages. You then choose optional modules for the rest of the programme. You will normally divide your third year between two countries where your languages are spoken and we also recommend that you spend some time in the country of your third language.

Choose from these languages:

French
German
Russian
Spanish
Portuguese
Catalan
Dutch
Luxembourgish* (from second year only)
Czech

Dual Honours (with a non-language subject)

As a Dual Honours degree student you will combine one main language and culture (40 credits), choosing from French, German, Spanish, Russian, Portuguese, Catalan, Dutch, Czech, with Italian (20 credits) and 60 credits from the list below. 

Please note, Italian can not be studied on its own in a dual degree and must be taken in combination with a second language.

Business Management
Economics
English
History
Linguistics
Music
Philosophy
Politics

Find out more about our range of dual honours degrees.

Guided Module Choice

If you have some experience of modern language learning, you may be able to take Italian language & culture modules either as part of your degree (guided modules) or alongside your degree (not-for-credit modules).
Course information
Language Modules
At Sheffield you can start studying Italian from scratch with no prior knowledge of Italian. All our language classes are informal and taught in small groups. The emphasis is always on real language in real situations. Right from the start of the course you will be encouraged to speak as much as possible; after all, the best way to learn is by doing. Grammar is taught in context, as it arises in the materials in use, and is immediately put into practice with pair and group activities so that you will be able to really understand all its nuances and become a confident user.
Italian
You will be presented with a variety of materials on contemporary Italian society and matters of academic interest and will participate in lively debates on topics such as stereotypes and the phenomenon of Mammismo, controversies around the protection and restoration of many cultural heritage sites, the North and South cultural and economic divide, the recent rise of populist parties on the Italian political scene and many other issues affecting Italy today. We will also watch and review a selection of Italian films that will give you an insight into the reality of life in Italy.
---
Module Information
At Sheffield you can study Italian ab initio. You will take 40 credits of Italian language in your first year and 20 credits of Italian in subsequent years. These modules will develop your speaking, listening, reading and writing skills as well as developing your awareness and understanding of Italian culture.
Italian Language Intermediate
We do not offer a year abroad in Italy. You will spend your year abroad in countries where your other language or languages are spoken.
Italian Language Advanced
The content of our courses is reviewed annually to make sure it is up-to-date and relevant. Individual modules are occasionally updated or withdrawn. This is in response to discoveries through our world-leading research, funding changes, professional accreditation requirements, student or employer feedback, outcomes of reviews, and variations in staff or student numbers. In the event of any change we'll consult and inform students in good time and take reasonable steps to minimise disruption.
Information last updated: 9 May 2022
---
Explore the University
Discover what sets Sheffield apart at our next on-campus open day.