Catalan Studies talk: Rosalía's Phenomenon 'El Mal Querer' and the Violence Against Women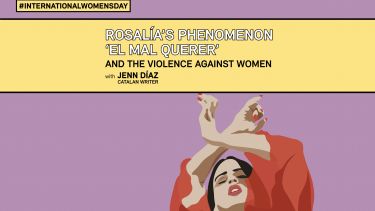 Rosalía is, nowadays, one of the most successful singers in the world. However, maybe just a few people know that she is from Catalonia, her mother tongue is Catalan and she even has songs in Catalan. So, we can certainly say Rosalía is one of the biggest music stars ever to emerge from Catalonia.
And maybe even fewer people noticed that the album that launched her to fame, 'El mal querer', has several references to feminism movement and violence against women. For this reason, and in honour of the Women's History Month, we talked about the album with the Catalan writer Jenn Díaz, who researched the link between Rosalía's lyrics and the violence against women. The talk was in Spanish to invite students who are studying the language, or content modules in SLC, such as 'Popular Music in the Hispanic World' or 'Gender and sexuality'. Almost 30 students attended the conference.
After an excellent and really moving explanation by Jenn Díaz, students were able to ask some questions related to Rosalía's phenomenon and her lyrics. This touching activity was organised by Catalan Studies at the University of Sheffield, the Catalan society 'Soc català' and Institut Ramon Llull. 
Events at the University
Browse upcoming public lectures, exhibitions, family events, concerts, shows and festivals across the University.