Los Indios Bravos, the Founding Fathers of Philippine nationalism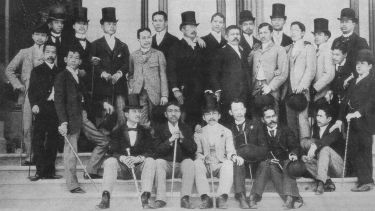 Second year SLC student Gabriel Azicate, with supervision from Dr Pete Watt in Spanish & Latin American Studies, discusses his SURE project, which aimed to research and explore the works of the first Filipinos who lived and studied in Europe during the late 19th Century:
"I first got interested in Spanish literature written by Filipinos when I heard stories from my parents that their great grandparents spoke, wrote and read Spanish fluently. As I grew up and developed an interest in Philippine History, my father took it upon himself to teach me informally Philippine history- as he was a former professor of history back in Manila. What struck me with these history lessons was that the Founding Fathers of the Philippine Republic had mastery of Spanish. As I learned Spanish, I was shocked that I could not find the original texts in Spanish of the writings of the Founding Fathers. Everything was in English!
When SURE was announced I decided to submit a research proposal to find the original Spanish texts of selected writings of the first Filipinos who studied in Europe in the late 19th Century. Unfortunately, the proposal was not accepted in the first round. I was disappointed at the time but decided that I had to move on. Two weeks later, much to my surprise, I got an email from SURE asking if I was still interested in pursuing the project. Although I was concerned that I was about two weeks behind, my parents just continued to encourage me to go for it. And here we are. 
Because of COVID, I decided to focus on original Spanish texts available on the World Wide Web and classified as public domain materials. I would have loved to actually see the actual material that would be held by the British Library and other University Libraries, however the COVID Lockdown did not permit me to do so. I decided that since very few people are familiar with these Filipino authors, I spent the time researching their biographies and tried to locate photos/portraits of these remarkable men. 
During summer 2021, I devoted much of the time and energy in reading the works of this remarkable group as part of the research. Each time reading and analysing the selected works, I gradually appreciated and understood the struggles they experienced. I sometimes see a reflection of their struggle in me, how I often have to redouble my efforts and give a full measure of devotion. This journey and revelation helped strengthen the bonds of my Filipino heritage. 
In order to make the material readily accessible and easier to search I drew up categories that I could assign to these works, ranging from the broader themes of nationhood, patriotism and the social and political dimensions of 19th Century colonial Philippines. I then linked the biographical information of the authors to the writings. I was even forced to carefully select the materials as I did not appreciate when I started the amount of writings these pioneering Filipinos who collectively called themselves Indios Bravos produce over a span of 20 years. In the end, I realized the best way to share my research was to put it in the media that my generation relies on an everyday basis- the Internet. I then had to learn how to put up my own website! 
My profound hope is that all of these materials will open possibilities not just for SLC, but for every student who wants to study Hispanic Language and Culture. I trust that when you have encountered and read these works, you will have a deeper understanding and appreciation of Philippine Culture and History, as it had for me."
Explore the University
Discover why Sheffield is the right choice for you at one of our open days or events.