'Mexico's Transformation in the Shadow of Trump'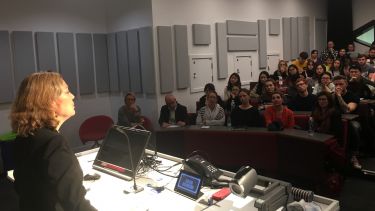 Mexican-American journalist and Director of the Center for International Policy (CIP) Americas Program in Washington DC, Laura Carlsen, delivered an excellent lecture to a packed audience of students and academics from across the university. Her visit, which was part of a research and impact collaboration with Dr Peter Watt, focused on Mexico's relationship with the United States, the migrant crisis and the challenges on the road ahead for the country's new centre-left government. The event was part of a collaboration between the School of Languages and Cultures, the CIP and Diálogos por la Democracia, a grouping of international scholars, human rights NGOs, journalists, lawyers and government legislators. Peter and Laura are founding members of the group, which is hosted by the Legal Studies Department at the Universidad Nacional Autónoma de México. 
Laura's lecture and wide-ranging Q & A addressed a complex situation in which, as she put it:
 "Mexico bucked the trend of right-wing governments in Latin America on July 1, 2018, when Andrés Manuel López Obrador (popularly known as AMLO) won the presidential election by a landslide, raising reformist expectations nationally and internationally. But where are we now, more than a year later?
As Mexico attempts major anti-corruption, redistribution and national development programs, the U.S. government is moving rapidly toward openly white supremacist, patriarchal and oligarchical rule—with widespread popular support. Antagonism toward Mexico, the left and especially immigrants of colour has been the cornerstone of the Trump administration and now intensifies with his re-election campaign.

How much margin of manoeuvre does the AMLO government have? International financial markets and investors threaten to punish any small step that reforms the market-based model and Trump's tariffs and other threats have already modified policy. On the other hand, how much change does the president really want? Some indigenous organizations criticize development plans centred on the same models of megaprojects and extractivism that have threatened their land and their peoples. The government has achieved gender parity, but feminists point to continued violence against women and attacks on rights. As we see some advances, human rights abuses and corruption are proving more intractable than many thought, and crime-related violence has flared."
Laura Carlsen is a bilingual, binational (Mexico-United States) political analyst, journalist and media commentator in Mexico. Among her many engagements and activities, she has written extensively on NAFTA, the drug war, immigration and gender issues in The Nation, Le Monde, USA Today, the New York Times, Truth Out and in other important fora. She hosts the TV programs Hecho in America, Interviews From Mexico and Updates from South of the Border on The Real News.