SLC Student Ambassadors share their experience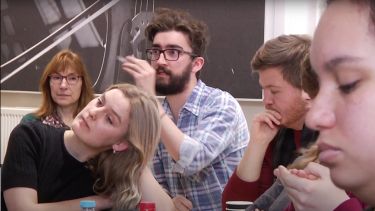 A taste of languages and cultures
Our online taster sessions help Year 12 students experience what it is like to study Languages at the University of Sheffield. However, they may be different from what you would expect. For example, why is a German taster session centred on Sigmund Freud's ideas about society? Or a French taster session on a series of photographs of La jungle, the refugee camp near Calais? Or a Spanish session on how the Spanish and Portuguese colonial empires have contributed to our present day ideas of race?  In other words, why do we give Year 12 students a taste of language study through philosophy, photography or colonial history?
We believe that language and culture are inseparable: you need the language to gain access to the cultural topics, but, equally, you need the cultural topics to really unlock and boost your language. Our Russian Year 12 taster session made the link very explicit. In the session we looked at how Russian authors incorporate the spoken word in to their writing:  learning to 'listen' to literature is a powerful tool to develop both your linguistic and cultural fluency.
But what do our student ambassadors say?
Back to our student ambassador. We asked Josie Batchelor to share her experience. She is a final year student of French and German and a regular at our outreach events. 
"I attended the sessions to share my experience about studying languages and cultures at Sheffield. There is usually a Q&A slot for current students to answer questions about studying languages, but also about life in Sheffield more generally, what the social life is like, what societies the language department offers and how best to prepare for university. It's always good to have the student's own perspective included and I love telling upcoming students about how great Sheffield is!
Studying history, films, linguistics and literature is such a valuable addition to my course, I can't imagine just studying the language on its own. I have learnt far more about the country and culture through these modules than I would have done otherwise. I have studied the impact of education policy on gender inequality in France and the importance of the Mittelstand to the German economy – these things do not get taught in language classes! I have gained a much more in-depth knowledge of the people who speak the language, and this has made learning the language more enjoyable and relevant.
To Year 12 students I would say go for it! Come and study one of our Languages and Cultures degrees. You'll never get bored with your course, every module will add extra spice to your degree, you can cater your learning to your interests and employers will love your range of skills and knowledge. You'll feel like a history, geography, film, philosophy, English and language student all in one, not many degrees can give you that! And I haven't even started on the Third Year Abroad...."