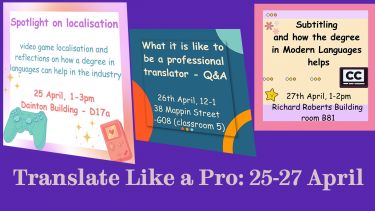 Three events on three days running! That is what our Translate Like a Pro series is offering. These informal session are for anybody who wants to find out a bit more about the different fields of translation such as localisation and subtitling. Or if you want to know what it is like as a professional translator, or about related career opportunities. 
All welcome, no registration required. 
When
What
Where
Tuesday 25th April, 1-3pm

Game On! Exploring the Exciting World of Video Game Localisation

Silvia Terribile will speak about the fascinating world of localisation and careers in the localisation industry. In very broad terms, localisation is the process of adapting a product or content to a specific market, but it is also so much more. 

Dainton Building - SR D17a
Wednesday 26th April, 12-1pm

What it is like to be a professional translator?  Q&A

Andrew Leigh and Helen Carey will talk about what it is like to be a professional translator, how they started in the industry, and will answer questions about their career. 

38 Mappin Street - Classroom 5
Thursday 27th April, 1-2pm

What is subtitling? and how a degree in languages helps in this field 

In this student-led workshop, MA students Cilian Hanna and Beth Sreeves will discuss the fascinating world of subtitling. They will explain how subtitling works, what it aims to achieve, what the sticky points are. They will also reflect on how their ML undergraduate degree prepared them for their MA Translation Studies with a special focus on subtitling.

Richard Roberts Building - SR B81
Sponsored by the Student Experience Enhancement Fund
Weekly online events
Attend an online event when it suits you, all year round, as an alternative to an open day.
Every Wednesday, Sheffield Live sessions cover different aspects of University life. You can also meet your department and learn more about studying your subject.