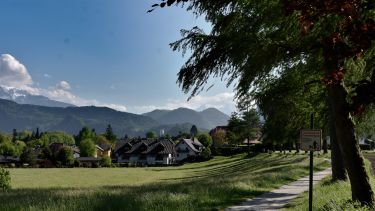 Alissa Mann (German, Russian, Dutch) was just settling in as a British Council Teaching Assistant when the corona crisis burst into our lives. She decided to stay in Austria, trying to make the most of an unexpected experience. Here is her story.
"Everything escalated so quickly at the start. It feels like I didn't have time to react. To begin with I wasn't too concerned about everything going on. I hadn't planned on going back to the UK for several months anyway. I thought perhaps I would miss out on travelling, but figured Salzburg is definitely not the worst place in the world to get stuck.
But in March the university, FCO and my gran all intensified their emails advising me to return home. At the time I didn't see the benefit of this, given that Austria seemed to be handling things better than the UK. I knew I was safe where I was, but it started to confuse and unnerve me nonetheless. It felt impossible to know the right thing to do. The uncertainty over when I'll be able to return home troubled me (and I'm still trying not to think about it). In a panic, I bought three flights all on the same day, all cancelled within hours of them taking the money from my bank account. Although it'd been less than a week since I'd been working as normal, it was now impossible to leave the country. Flights leaving Austria were cancelled and the border to Germany shut too. Trying to leave a sealed country was stressful, but throughout this I had the support of my wonderful personal tutor who tried everything to get me home. I didn't get home, but I was reassured to have someone working to help me out. The lovely members of Sheffield's Germanic Studies have made sure I'm safe and happy too, and have given me plenty of online work to do, should I get bored. 
The lovely members of Germanic Studies have made sure I'm safe and happy too, and have given me plenty of online work to do, should I get bored."

Alissa Mann

On her third year abroad during lockdown
The longer I stay here, the more it feels like the right decision (even if my options were slim). I've continued working with my Austrian students online, running conversation classes on Microsoft Teams. My work placement hasn't been what I expected it to be, but the skills and experiences I've gained have still been worthwhile. It feels like things are getting better, whether that's true or not I don't quite know. I'm missing my family (and cats) a lot and don't know when I'll see them again, but I'm trying to focus on the positives. The government loosened the restrictions on going outside this week, although we have to continue social distancing. Salzburg is green and beautiful in the spring, and I live within walking distance of forests and mountains.
Everything that's happened seems so surreal, but I also feel like I've adjusted to this absurdity. I'll be relieved to come home, hopefully sometime soon. But when I do I don't think my memories of this time will be entirely negative."
Explore the University
Discover why Sheffield is the right choice for you at one of our open days or events.