Below are answers to frequently asked questions about postgraduate admissions.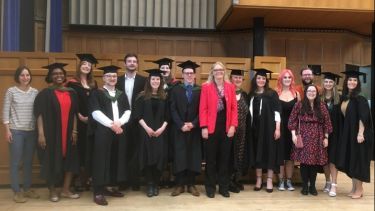 On
If we haven't answered your question, or you would like to discuss anything else with us, please get in touch: slc-admissions@sheffield.ac.uk.
You'll find lots of useful information on our International page here.
Entry requirements

A 2.1 British Honours degree or equivalent from your country. 

An English Languages Test Certificate such as IELTS 7.0 (with 6.5 in each component), TOEFL Ibt 95 OR Pearson PTE 67

Applying essentials

If you're applying for postgraduate taught study at Sheffield, you'll find all the key information on this page. Please read it before you complete your application.

How to apply

Apply directly to Sheffield via our online application form. Within the form you can upload your supporting documents such as the Degree Certificate, Transcripts, references, English Language test and personal statement. 

https://www.sheffield.ac.uk/postgraduate/taught/apply/applying

Supporting documents

Academic references

We normally require one or two references in support of your application. These should be supplied by academic staff at university-level institutions where you've previously studied. If you've been out of education for the last two years, you can send one academic reference plus one from your current employer if you wish. We would normally expect references to be dated no more than two years before the start date of the course you've applied for.

In their reference(s), your referee(s) should provide their personal opinion of your ability and suitability to undertake postgraduate study, in particular your previous academic achievements (especially in comparison to those of your peers), and any distinct strengths and weaknesses (for example motivation, commitment, independence, ability to work under sustained pressure). If your first language isn't English, your referee(s) should also include their opinion of your proficiency in written and spoken English.

Personal Statement

When we make a decision on an application, we want to understand your motivation for choosing the programme and why you are choosing to study the programme at Sheffield. You should refer to the modules that we offer and how studying these will help you to achieve your future career aspirations. The statement doesn't need to be very long, approximately 300 words.

Application deadline

30th June each year.

CAS (Confirmation of Acceptance of Study)

 International students (those from outside the UK) coming to study in the UK must be sponsored by an institution, such as the University of Sheffield, which is registered with the UK government's UK Visas and Immigration (UKVI) as an 'approved education provider' (this is not the same as financial sponsorship).

To confirm their sponsorship, anyone who applies for a visa to study in the UK must include with their visa application a unique Confirmation of Acceptance for Studies (CAS) number, linking them to the institution where they intend to study.

Do you accept applicants who do not have a degree in a language-related discipline?

We do accept applications from other majors. When we receive an application we take into account the modules you have studied, the grades attained and the personal statement. The statement needs to focus on the programme at Sheffield and tell us why you are choosing Sheffield to study. We want to understand your motivation for choosing our Masters' programme. You should also refer to the modules that we offer and tell us about the modules that you intend to study as this will give the Selector a good idea of  your intentions. 

Do you accept applicants with a 2.2 result in the Bachelor degree?

When we receive an application we look at it as a whole. We take into account the Bachelor degree studies, the modules studied and grades attained, the references, the English language test certificate and the personal statement. 

With a 2.2 result, we wouldn't automatically make an offer of study for a Masters', we might make an offer of study for a Postgraduate Diploma to start with and then if, during your studies, your grades match those of the Masters' students, we may upgrade you to the full Masters' degree. 

It is important that your references are really strong. They should be written by professors who taught you on the Bachelor degree and know you really well. They should comment on your academic performance.

Please note that international students who require a visa to study are not eligible for Postgraduate Diploma studies.

Postgraduate Funding
Choosing your modules

You will study a total of 180 credits per year if you are a full-time student. If you choose the part-time option of studying over two years (this option isn't available to international students who require a visa to study) you'll study 90 credits per year. 

Each programme offers both core (modules that you must study) and optional modules that you choose yourself to suit your study interests. Before you begin your studies with us, we will hold online module choice meetings to talk to you about your options.

Dissertation topics

We don't expect you to know what your Dissertation topic will be at the beginning of the programme. This develops during your studies. 

We allow you to choose your topic area yourself, and it needs to be connected to your programme of study. If you aren't sure on the topic we will help you. All staff have regular consultation times that you can book. We support all students in the identification of the research area; reading to be undertaken, adopting appropriate methodologies and the development of original ideas and insights.

We offer a range of different dissertation types, ranging from purely conceptual (theoretical) work, to empirical projects (based on data you collect) and mixed theory-and-practice project dissertations (which can be carried out with external organisations). We have an introductory session at the beginning of the Spring semester to discuss which type of projects students can work on. Typically dissertation topics revolve around finding a solution or providing new insights into a 'real life problem' related to language, culture and communication.

We offer the module Induction and Transition to give students the opportunity to develop the knowledge and skills necessary to complete successfully the requirements of their postgraduate programme, including writing an essay at MA level (including library skills, academic writing, referencing conventions, plagiarism issues and autonomous learning) and undertaking a dissertation in the field of study. The module and Research Methods introduces students to a range of methodological approaches of relevance to research in Modern Languages and Cultures, Intercultural Communication and Translation Studies. 

Assessment

We offer various types of assessment which include essays, translation tasks, individual and group presentations, designing and delivering seminars,  subtitling, dubbing and localisation projects, independent research projects, practical projects with external partners and a dissertation. For each module you will receive a Study Plan with all the requirements for that module.
What are the career prospects for postgraduate students?

Career prospects for our students are exceptionally good. The University of Sheffield has a very proactive Careers Service that provides career advice and support throughout your degree, not just at the end of it.

https://www.sheffield.ac.uk/careers

Our Alumni work in a wide variety of industries both here in the UK and overseas working in a wide variety of careers, many in leadership roles, for companies such as PWC/USB/ HSBC/ China Daily/ L'Oreal/ Nike/ Ping Pong Digital, ZOO Digital and RWS such as project managers, translators, human resource managers, digital marketing, sales/ business managers, intercultural trainers, international student recruitment and others who go onto work for NGO's such as United Purpose  in Senegal or SUCEED in Sierra Leone. Others stay on with us to complete a PhD programme.
Weekly online events
Attend an online event when it suits you, all year round, as an alternative to an open day.
Every Wednesday, Sheffield Live sessions cover different aspects of University life. You can also meet your department and learn more about studying your subject.