Migration, culture and community
The Migration, culture and community research cluster explores, develops and disseminates a range of research activities within the broad fields of language and identity across cultural and national borders.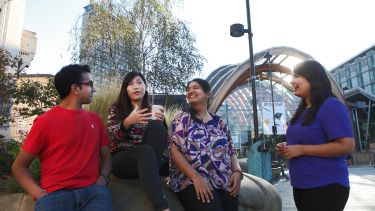 The linguistic, cultural and disciplinary diversity of the members of the cluster, along with the particular range of specialisms covered by our research and teaching interests, enables us to develop a broad and productive base for research.
Within our cluster, we foster cultural and linguistic research across traditional borders. In a time and space increasingly characterised by multiple alliances, linguistically and culturally, globalisation and regionalisation compete for attention and space. We believe that this is the time to nurture an open-minded attitude and climate in our research. Our basis as a School of Languages put us in an excellent position to exchange ideas and dialogues across languages and cultures.
Research is currently undertaken in the following areas:
Literature and migration
Migration and community studies
The language of the city
Transnationalism in literature in the visual arts
Multilingualism
Life-writing
Cultural production in post-imperial societies
Extra-textual modes of representation
Linguistic approaches to the representation and translation of identity in spoken and written language in film and in literature
---
Upcoming events
When
What
About

27 Nov 2019,
4pm

Research Seminar

 

Dr Audrey Small and Dr Carmen Ramos Villar report on their research in progress. This is a session with plenty of room for discussion. 
4 Dec 2019

 Research Presentation

Sarah Muller, Postgraduate Research Student and Teaching Assistant for Luxembourgish, Sheffield

'Erasure, desire and imagined identity: insights into the linguistic repertoire through the language portrait'

Verena Platzgummer, Eurac Research / Universität Wien
'Negotiating mother tongue ideologies in language-biographical interviews'

12 Dec 2019, 5pm

Book Launch

Multilingualism, (Im)mobilities and Spaces of Belonging
Edited by Kristine Horner and Jennifer Dailey-O'Cain

The movement of people and their linguistic repertoires has contributed to increasing pressure on the model of the nation-state and notions of linguistically and culturally homogeneous societies. Multilingualism, (Im)mobilities and Spaces of Belonging explores the ways in which language and heritage are linked, the contestation of spaces and the notion of borders, and examines themes of mobility and struggle and the ways in which language can be linked to notions of belonging, authenticity and aspirations for augmented mobility.

Spring 2020

t.b.c.

Round Table

The Migration Culture and Community Cluster runs regular Round Tables to provide the opportunity for researchers with an interest in this area to engage critically with colleagues on our migration and culture related themes and topics. During our Round Table sessions there is also ample opportunity to discuss 'work in progress'. 

The Round Table is open to anybody with an interest in this area of research. 
Flagship institutes
The University's four flagship institutes bring together our key strengths to tackle global issues, turning interdisciplinary and translational research into real-world solutions.