Russian Translation Competition 2022
We are delighted to announce the second University of Sheffield Russian Translation Competition for Year 12 and Year 13 students in the UK.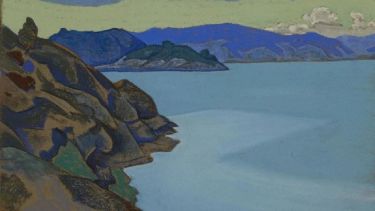 ---
About the competition
The competition is open now and closes on Friday 4th November 2022 at 5pm. Students of Russian in Years 12 and 13 in the UK are invited to submit their translation of the original short Russian text below. Only one translation per student is permitted.
Text
Extract from Aleksei Polyarinov, Rif (Moscow: Inspiria, 2022)
Polyarinov's novel Rif has been shortlisted for the NOS (Novaya slovesnost') prize. The author's blog can be found here. You can watch an interview with Polyarinov in which he speaks about Rif here.
Text to translate

Кира еще раз перечитала имена и огляделась, окинула взглядом площадь. Она сотни, тысячи раз ходила здесь, возможно, даже наступала на эту табличку, но ей и в голову не приходило, что тут есть табличка с именами. Впрочем, неудивительно, подумала она, ее как будто специально вбили в брусчатку именно здесь, на краю, — чтобы спрятать. Площадь уже давно была «захвачена» другим монументом — «голым мужиком», установленным в самом центре, — и всей своей кричащей, вызывающей обнаженностью он умножал невидимость окружающих объектов. Кроме него на общем фоне блеклых типовых пятиэтажек выделялось разве что здание администрации — в его фасаде чувствовался замысел, прикосновение архитектора, хотя Кира и не смогла бы сказать, что это за стиль.

Она еще раз перечитала имена на табличке. Титов молча стоял в стороне, сунув руки в карманы.

— В школе нас водили сюда на экскурсию, но я совершенно не помню эту табличку. — Она помолчала, обернулась на Титова. — Олег Иванович называет вас «безрассудным молодым человеком».

— Не очень-то молодой. Мне почти сорок.

— Вы не знаете Олега Ивановича. Для него все, у кого на голове есть волосы, — молодые.

Он улыбнулся.

[…]

— Что вы хотите найти? — спросила Кира. — Ну, в архивах?

Он убрал блокнот и карандаш в нагрудный карман, застегнул молнию.

— Я думал, вы все обо мне узнали, как только я проехал стелу на въезде. — Она серьезно посмотрела на него, и он, вздохнув, показал на табличку в брусчатке. — Я здесь из-за них. Хочу знать, кто они. И написать их историю. Уже неделю тут околачиваюсь и заметил одну закономерность: единственное, что местные знают про бунт 62 года, — это то, что он был. Больше ничего. Вот вы, например? Можете что-нибудь рассказать?

 

(260 words)
The prize
The authors of the ten best entries will each receive a prize of a £25 Amazon voucher and an invitation to take part in a special virtual Translation Workshop organized by the School of Languages and Cultures at the University of Sheffield, involving academics in Russian studies, Masters students in Translation Studies and alumni who work in translation-related fields. The Workshop will be held on Wednesday 7th December 2022..
The judges
The translations will be read and judged by a panel of Russian experts from the School of Languages and Cultures at the University of Sheffield. 
How to enter
The competition is open to students of Russian in Years 12 and 13 in the UK. Please translate the text above by Aleksei Polyarinov. Translations should be the original work of individual students.  Please save your translation as a Word or PDF document and include your full name and the language that you are entering for in the file name, for example: JOE BLOGGS - RUSSIAN.
To submit your entry, you must complete this form.  The form includes a Dropbox link that will allow you to upload your translation.  You must complete the entry form AND upload your entry using the Dropbox link.  Failure to do so may mean that your entry cannot be considered.
You must submit your entry before 5pm on Friday 4th November. 
Winners will be notified by Wednesday 23th November 2022.
A fair copy of the translation, based on the best entries, will be available on this website from late November. Unfortunately, we cannot provide feedback on individual entries.
Удачи !
Dr Adam Fergus and colleagues in Russian and Slavonic Studies
Explore the University
Discover what sets Sheffield apart at our next on-campus open day.