Where could your career take you?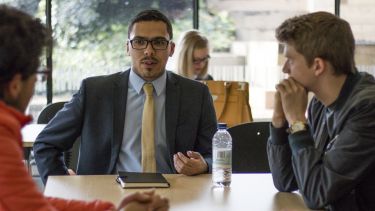 Careers within the language industries
Whether you choose teaching, translating or interpreting, a language degree from Sheffield is a big step towards working in the language industries. Teaching offers job satisfaction, security and the chance to share your passion with young language learners. The translation and interpreting industries offer direct use of your language skills and the opportunity to work internationally.
Where are they now?
Recent graduates have gone on to teach in primary and secondary schools throughout the UK and across Europe. Our graduates also now translate and interpret for UK and international businesses, as well as in the European Union.
---
Careers outside the language industries
You may equally choose a career in which your language skills are not the primary focus of your work. In this case the other skills acquired across your degree come to the fore. Skills developed when studying a language degree at Sheffield - analytical skills, an aptitude for communication and presentation, the ability to thrive in challenging environments - have seen our graduates blossom in a range of careers.
Where are they now?
Recent graduates have gone on to work for, among others: the BBC, Ford Motor Company, Saatchi, Reuters, Agence France Presse, the European Parliament, the House of Lords.
---
Further study
You may want to continue your studies at Masters and Doctorate level, gaining a real understanding and expertise in your chosen field. Beyond that is the opportunity for employment in research and lecturing posts. A career in academia will often combine teaching students while pursuing your own specialist area of research. This offers intellectual stimulation, flexibility and a high degree of autonomy.
Where are they now?
Recent graduates have gone on to pursue PhD study both in the UK and abroad. Many of our former students are now Lecturers or Professors.
---
Destinations
Your language degree really is just the beginning, and it can take you wherever you want to go. Language graduates are in demand for academic, teaching and translation roles, but there are also many other employers who need the skills you will develop at Sheffield.
Sectors
Many sectors recruit graduates from a wide range of different subject areas. This can mean that there is a lot of competition for jobs in these sectors, however the skills and experience developed in your language studies at Sheffield will put you at a significant advantage.
Marketing: The marketing, advertising and PR sector looks for graduates with excellent communication skills, the ability to adapt to new challenges, a strong organisational capacity and creative flair. These are skills you will develop in your undergraduate language studies at Sheffield, as has been proven by the fact that many of our undergraduates go on to forge successful careers in marketing.

International charity work: The likes of Oxfam and Voluntary Service Overseas work on complex global issues. As Andrew Thompson, the International HR Director of Oxfam, states "We are always looking for staff who can communicate accurately and sensitively in this environment. Practically speaking this often means looking for candidates with two or more languages."

Law: Many law firms look for language graduates for their training programmes. These programmes take the range of skills learned at undergraduate level and - via a law conversion course and practical experience - provide you with the necessary knowledge base to practise law. Here your language and analytical skills, as well as your ability to cope with difficult situations, are highly valued.

Accountancy and Professional Services: Far from being only for economics graduates, accountancy firms take candidates from all backgrounds for their graduate schemes. Your critical analysis skills, coupled with your talent for communication, will enable you to thrive in this highly competitive - yet rewarding - sector. Skills in another language are also prized in what is a truly international field.
Employers
Here are just a few examples of employers and graduate schemes that recruit our students.
The Government Communication Headquarters: The Government Communication Headquarters (GCHQ) is a key part of the UK's intelligence and security service. They recruit graduates proficient in Modern Languages and with advanced intercultural skills to gather information, piece it together and feed it back the relevant parties. GCHQ employs more language specialists than anyone else in the country.

Civil Service (European Union): The UK Civil Service Fast Stream (EFS) equips you to become an EU civil servant in a European institution. With French and German (along with English) generally used as procedural languages of the European Commission, at least one of these languages (up to A-Level) is needed for the EFS. However, all of the languages studied in SOMLAL are needed in the EU.

International Graduate Schemes: There are a range of international graduate schemes available which can take you across the world. These usually take place over two to three years and combine business experience, training modules, mentoring and social entrepreneurship to help graduates carve out a career within a particular company. Applicants are usually required to have at least one foreign language.

British Council: The Language Assistants programme works in 15 countries across the world. Participants live abroad for one year, supporting the teaching of English in a school, college or university. This is a chance to use your language skills, explore a new country and develop your independence after university. The skills gained on this course are highly valued by employers.