The best thing about being a dual honours student is the variety; in terms of modules and the way you are taught

Charlotte
Undergraduate Student
BA Business Management and Modern Languages & Cultures
Charlotte studied French and Business Management at Sheffield and gained a place on a graduate scheme.
Why did you choose to study in Sheffield?
The main reason was that Sheffield offered a dual honours degree in French and Business Management which had a range of modules that covered the areas I wanted to study. I had always been very interested in French history and culture as well as the language and the modules offered a wide choice in these areas, as well as business modules that were much broader than Finance and Accounting.
When I visited the university I found all the departments seemed to be very confident, organised and welcoming, and it generally had a nice feel to it. This was my first visit to Sheffield, and I had been expected a fairly dull town, but it seemed like a really nice city with lots going on as well as having lots of green space and being on the edge of the Peak District.
What's the best thing about being a dual honours student?
The best thing about being a dual honours student is the variety; in terms of modules and the way you are taught. Business and Languages are two completely separate faculties with very different approaches. Languages are taught in much smaller classes than in Business with mostly large lectures so you are exposed to different ways of teaching.
Being a language student also makes particular business models with an international aspect more interesting and possibly gives you a wider view. As a language student, I spent a year in France, and as my degree was combined with business it helped me get a placement in the Finance Department of a company. This gave me great experience in business as well as improving my French.
Can you tell us how your timetable is split between the two Departments?
On average I will have about 12 contact hours each week with more in French than with Business. Business usually has modules with two-hour lectures with tutorials fortnightly whereas French mostly has one-hour lectures or seminars. Overall though, I find that I spend equal amounts of time with both subjects.
What is a typical uni day like? 
As a fourth year, a typical day may be a language lesson in the morning and then a business lecture in the afternoon and will then spend my time at the library in between. The amount of time in the library often depends on how many assignments are ongoing at any one time, and sometimes priorities for each faculty can clash which can make timescales very tight.
Each day is very different for me so it is difficult to have a typical day! I also play Lacrosse for the university and have to combine matches on a Wednesday with several practices and fitness sessions each week, but I still always find time for socialising.
What are your tips for a prospective applicant thinking about a language with Business Management?
My tip would be to really consider dual honours as an option. Having a second language along with business studies may open up the world for you after Graduation. I have found that having a language really complements your business skills and is something that many companies look for.
If you are considering a language with business you are probably quite interested in international business which makes some of your modules that bit more interesting!
What are your plans after Graduation?
I have been offered a three-year business graduate scheme with an international company which I am very excited about and although I will start out in London I hope to move and use my language skills!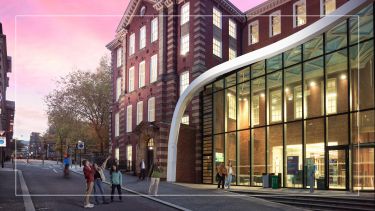 Visit us
Discover what sets Sheffield apart at our undergraduate open days on the Saturday 21 October or Saturday 18 November.