Sheffield was one of the only universities in the UK that offered my course, Music and Spanish

Hannah
Undergraduate student
BA Music and Modern Languages and Cultures
Hannah is a dual student studying Music and Modern Languages & Cultures
Why did you choose Sheffield to study Languages?
The University of Sheffield stood out to me from the start of my university application process, as it was one of the only universities in the UK that offered my course; Music and Spanish. I felt the module choices were widely varied and presented a unique selection compared to the other universities offering this dual degree.
Are there any modules that you have particularly enjoyed during your degree so far, and why?
Throughout my degree, I have thoroughly enjoyed all of my Spanish culture modules in particular. This year, I am taking a module called the 'Nation and Transformation in Latin America'. Not only have I improved my knowledge of Hispanic history and literature, but I have gained a passion for it, due to the enthusiastic teaching from my lecturers! Their fascination for the Hispanic world brought an energy to the class that has engaged with all of the students. I think that this has been a main reason as to why I have immersed myself so much into this module in particular. A music module that has particularly stood out to me is 'Music Psychology'. Before starting my degree, I was unaware of music psychology being an opportunity within music. However, I chose it as one of my first year modules as I was intrigued to see what it entailed. Since then, I have become so passionate about the subject that I would like to follow a career path in this area of music and have chosen to study it further in my second year. I find it fascinating how something that seems as simple as music has the power to enhance the brain's cognition and positively impact people's health and wellbeing so drastically. This combines my love for music and my passion for improving the lives of others. I think this module is a great option for all students, as it provides them with a new concept that varies their studies and introduces them to a fascinating area of music. 
Why did you choose this particular course?
I chose to study Music and Spanish as my degree as I felt the subjects complimented each other really well. Although the combination might seem strange and unrelated, I have always viewed the subjects as going hand in hand, as they are both about communicating with people. Music has always been about expressing emotion and feelings that we can't explain with words and the purpose of any language is about communication with others across the world. That's why these subjects fascinate me so much and I wanted to explore them further than my A-Level studies. To me, this made it a clear choice to study them both together!
What's the best thing about being a dual honours student?
I would say that the best thing about being a dual honours student is that you have the opportunity to immerse yourself in two different departments at the University. This allows you to meet twice the amount of people that you would if you took a single subject, so that you're able to make more friends and enjoy more experiences with new people. This often happens through societies, as they provide a fun, light-hearted way of finding your people. I also think that doing a dual degree ensures that you don't lose interest in your subject, as there is variation in your studies. I've found that this helps me maintain my concentration and passion for my degree, as I do not have to solely focus on one area of study.
Tell us about your preparations for your Year Abroad. Which country/countries are you going to and what are your plans (university, work placement or volunteering)?
In preparation for my year abroad, I've been applying for work placements in Spain. My first choice placement that I'm hoping to achieve is to work at a tennis club in Salamanca that focuses on teaching the students English whilst doing something as enjoyable as tennis, so that they can improve whilst learning the language in a fun and casual manner. I think this will be a great opportunity for me, as I'm so passionate about tennis and coach for the University's tennis society.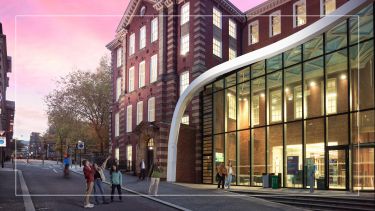 Visit us
Discover what sets Sheffield apart at our undergraduate open days on the Saturday 21 October or Saturday 18 November.