The tools that I have gained as a result of my dual degree will allow me to effectively seek employment

Isobel
Undergraduate student
Politics and Modern Languages and Cultures
Isobel is a dual honours undergraduate student, studying Politics and Modern Languages and Cultures
Why did you choose Sheffield to study languages?
I spent a lot of time considering different options for university, but ultimately an open day visit to Sheffield stood out to me amongst these options. The language department was enthusiastic and engaging and compared to other universities I just enjoyed the way teaching and learning was approached at Sheffield.
What do you particularly enjoy about your degree programme?
Definitely the diversity of the modules on offer and being able to relate these modules to one another. For example, studying politics has allowed me to approach German cultural studies through a political lens. Being in two faculties also means that you are exposed to different ways of teaching and approaches to topics, which is something that has been really beneficial in developing my approach to university in general.
Are there any modules that you have particularly enjoyed during your degree so far, and why?
I would say the research project module that I began this year. Being given the agency to research any topic related to my German studies allowed me to pick a topic related to both sides of my degree, and one that I studied on my year abroad. My dissertation covers Afro-German identity and the notion of Germanness, drawing on politics and race studies. With the help of my supervisor, I have been able to draw on various discourses to help me frame my dissertation from a German cultural standpoint but also a political one.
Why did you choose this particular course?
I chose a dual course in German and Politics as I wanted flexibility in my degree. The scope that my dual degree offers is valuable, allowing me to pursue two subjects that complement each other well and that I have a keen interest in.
Where did you go and what did you do during your year abroad? How did it benefit you personally and what did you enjoy most about it?
I studied at the Humboldt Universität in Berlin. I benefitted significantly from my year abroad both in terms of improvement in my German language and academic skills but also in terms of my independence. Living in Berlin and attending a university in another country immersed me in the German culture, which is something that I wouldn't have been able to access without the year abroad.
What are your plans for after you graduate?
I plan on using the international experience that I gained on my year abroad to return to Berlin. The tools that I have gained as a result of my dual degree will allow me to effectively seek employment there.
Would you recommend studying languages at Sheffield? Why?
Yes. Studying languages at Sheffield provides a supportive environment in which individuals are encouraged to engage in their studies. The academic support I have received from the school of languages at Sheffield has helped me to progress in my German language and cultural knowledge.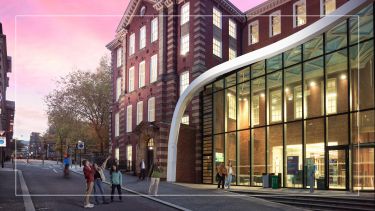 Visit us
Discover what sets Sheffield apart at our undergraduate open days on the Saturday 21 October or Saturday 18 November.