Luke shares his highlights of living and studying in Sheffield
Luke is from Norwich and studies German, Dutch and Luxembourgish in the School of Languages and Cultures.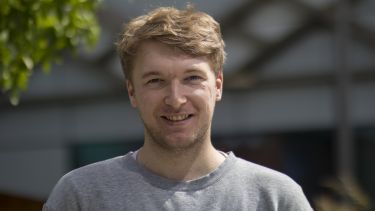 Why did you choose to study in Sheffield?
The facilities such as the Information Commons (IC) and the Diamond stand out, as well as the excellent Students' Union, but honestly, it was purely because I could study 3 languages at the same time!
How did the School of Languages and Cultures help support you through the whole process from application to settling in?
The school runs regular open days which are definitely worth attending as both students and staff are more than willing to answer any questions that you may have, and some staff also gave me their email addresses so I could contact them if I had any more questions after I left.
A few weeks before moving to Sheffield there was also a website for freshers which was very useful and had information about all of the languages offered and what exactly we would be studying and with who, so it was a nice opportunity to do some research.
When I arrived in Sheffield there were drinks receptions with the staff and plenty of informal sessions to try out new languages and get to know staff and fellow students.
What do you particularly enjoy about your degree?
I really enjoy studying Dutch! I dabbled with Dutch briefly on Duolingo before coming to uni, but studying at Sheffield has really brought it to life. The same can be said about Luxembourgish, as the staff are extremely passionate about their area of expertise and you get to do lots of interesting and unique things.
Where are you going on your year abroad?
I'm going abroad next year. In my first semester, I'm working with British Council in Tyrol, Austria, as an English Language Assistant, and in my second semester, I'm working with AMUZ in Antwerp, Belgium, as a Communications Intern.
What skills do you think your degree equipped you with and how will this add to your employability?
Communication, definitely. It's daunting enough having to do PowerPoint Presentations but when you have to give them in another language you really need to focus on what you're saying, so some modules have helped with that.
It also goes without saying that languages are a massive bonus. It's easier to teach a languages student about business than it is to teach a business student another language (or 3!).
What do you enjoy about living in Sheffield?
Sheffield is one of the largest cities in the U.K. but has a very laid back feel to it. It's green, leafy, calm, everybody is friendly, you're a stone's throw away from the Peak District, and there's plenty of independent bars, pubs, restaurants and shops. In fact, the raw, DIY, independent vibe is probably the main thing that attracted me to Sheffield.
---
My course is truly unique, it's special, different, and gets people hooked and talking, from friends and family to potential employers.

Luke Marshall

German, Dutch & Luxembourgish
---
What is your highlight of studying and/or living in Sheffield so far? 
There are lots of things to choose from, but the main one for me would be joining a society called Bummit. We hitchhike all over Europe and raise loads of money for charity at the same time. Many of the friends I've made have been through Bummit at it's something that I highly recommend people check out.
I've been a member for two years now and during that time I've hitchhiked with mates to Edinburgh, but also as far as Riga, Latvia, and Split, Croatia!
And obviously knowing languages comes in very handy too as not many people on the trip can speak anything other than English - highlights include speaking to a Russian truck driver in extremely broken Russian for about an hour, and sharing a van with an Austrian man for a hundred or so miles who only spoke to me in English and I only spoke to him in German.
What do you know now about Sheffield that you didn't know before you came here?
I had no idea Henderson's Relish existed - now I put it in almost everything!