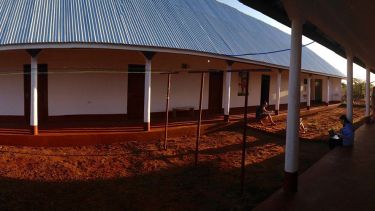 Off
The Field Centre accommodation block is organised into 9 large rooms, each of which can comfortably accommodate 4 people. There are two shower and toilet blocks that serve these shared rooms, each housing 3 European style flush toilets and 3 showers. We have installed a solar powered water heating system. In addition there are two detached double bedroom units, each with ensuite facilities.

All the rooms are regularly cleaned and beds are equipped with mosquito nets.  All rooms have electric lighting and a UK compatible 3-pin power socket.
---
Our facilities
Accommodation is provided on a full board basis. Our Tanzanian cook, Rufina, can cater for a range of dietary requirements. All our produce is locally sourced and where possible from KEDA's livelihood project beneficiaries. For example, our coffee is locally sourced and then roasted on site.    
Dining takes place outside or in the dining room that seats 30. The dining room is easily converted into a meeting room for workshops and training sessions. We also have a small IT room that is used by guests and for training courses in the local community.
The Field Centre is located in the village of Njia'panda, which is very safe. All rooms have lockable doors and the Centre is surrounded by a high perimeter fence and patrolled by a security guard at night.
---
Our rates
If you are an independent traveller who is interested in staying with us then please contact us at cedetanzania@gmail.com . If you are a member of the University of Sheffield, please contact us at keda@sheffield.ac.uk and we will get back to you asap.
---
Our guests
The Field Centre is ideally located and equipped to accommodate independent travellers, researchers as well as School, University and special interest groups who may wish to undertake a Field Class in Tanzania or undertake Programme/Project work with KEDA.                                
KEDA's offices are located on-site and we ensure that all visits are planned and developed in alignment with KEDA's Programmes as well as local communities.    
We work with a Tanzanian travel company and can arrange ground transport for the duration of your stay as well as bespoke safaris to nearby destinations such as Lake Manyara and the Ngorongoro Crater.
The Centre is located close to the Marangu Gate of the Kilimanjaro National Park where a 5-6 day climb can be arranged or a one day hike through Montane Forest to the Mandera Hut.