The fight against deforestation in Europe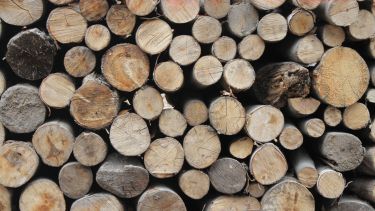 Despite attracting unprecedented political attention, authoritative reports show that timber is still being illegally cut and introduced to the common market, harming valuable old-growth, or virgin, forests and other unique biodiversity hotspots. 
Figures show that this illegal logging is mostly trafficked into processing plants and then sawn for the construction industry or big furniture producers across Europe. 
A UNEP – WWF publication lists illegal logging as the biggest threat to biodiversity and the local economy in the Danube-Carpathian region, on par with the illegal caviar trade, mass-killing of songbirds and poaching of big carnivores. 
Dr George Iordăchescu is a postdoctoral researcher for the University of Sheffield's BIOSEC project. His work explores the impact of EU regulations on timber trade and securitisation in Eastern Europe and aims to understand how a redefinition of illegal logging and timber trade as a security threat has triggered a massive citizen involvement in surveilling and reporting of environmental crimes.  
'In Eastern Europe, the issue of illegal logging is more visible, but it also has a higher impact on nature, conservation and biodiversity,' said Dr Iordăchescu. 'Some countries in Eastern Europe, like Slovakia, Poland and Romania, became members of the EU in the last 10-15 years and they had some struggles adapting their environmental legislation. At the same time, they have higher biodiversity values such as larger areas of intact virgin forests and significant populations of brown bears and wolves. In these countries, nature is considered wilder due to traditional land uses and other historical processes that exerted a lower pressure on the environment compared to most western states. 
'At the same time, during post-socialist transformations, the lands that have been nationalised by the communist regime were given back to pre-war owners. These chaotic restitution policies had significant social and environmental unintended consequences. These reforms not only resulted in the privatisation of large forest areas (up to 50% in Romania), but also changed forest livelihoods dramatically. In many cases disenfranchised Roma communities lost customary rights to timber. In others, entire local economies were remodelled by timber rushes. Sometimes forest restitution was made problematic by corruption and political patronage. This created a perfect environment for grey business or even black markets to emerge,' Dr Iordăchescu added.
But alongside the environmental and economic factors, timber trafficking has been  mobilising society and gaining momentum on a social level, for several years. 
'The issue is very high on the public agenda,' Dr Iordăchescu said. 'It's probably the first issue that has mobilised society around environmental topics, not only the NGOs but also a wider public, regardless of rural-urban or class divides. For countries like Poland or Romania, the issue of illegal logging and the fight against illegal logging and timber trafficking has coagulated very important social movements. 
On social media, there are many strong discussion groups – hundreds of thousands of members – and their campaigning has exerted pressure on governments repeatedly. In Romania, this cyberactivism has been fostered by a set of government-provided digital tools for smartphones which monitor and report illegal logging to the authorities.' 
Dr Iordăchescu's investigations into the practises of illegal logging, and the EU legislations that try to reduce the illicit activity, found that the over-regulation of forest governance, management and timber harvesting creates an unstable business environment while the lack of local capital and investment forces various actors in the forestry sector to operate at the border between licit and illicit activities. This grey market survives as both the household and industry's demand for timber outstrips supply.
'Currently, Romania's legislation states that any harvesting of timber which is not legally recorded is considered a crime. It is irrelevant whether big companies are clear-cutting hectares or one household fells a tree for energy,' said Dr Iordăchescu.
'This puts a lot of pressure on the rural population in Romania. Almost half of the country's population live in rural areas and are not connected to gas grids, so they have to heat their homes with firewood. The price of timber fluctuates a lot every year and sometimes they have to rely on informal arrangements to procure their timber, but not necessarily legal agreements. Recent developments have turned to criminalising little theft or other acts of forest wrongdoings by turning sanctions into criminal punishments. '
The more illegal logging and timber trafficking is considered a serious organised crime, the more consumers' trust in the forestry sector has decreased, at both the national level and internationally. This criminal framing has forced small and local processing firms to run out of business and allowed big international players to dominate the market. 
'The last forest inventory from 2019 states that for the last five years, over 20 million cubic hectares of timber have disappeared. It does not state that the 20 million cubic hectares have been illegally logged, but the European Commission included this figure in its infringement procedures and in public press releases, so it was taken for granted from the environmentalists discourse,' Dr Iordăchescu said.
'As high conservation value forests become critical for the EU's green growth and biodiversity strategies, it is crucial to take into consideration the variety of ownership and access rights, forest governance traditions and the varying degrees of forest-dependency across class, ethnicity and rural-urban divides. It is vital to make sure that policy development does not perpetuate environmental injustice or deepen local inequalities and precarious livelihoods.'
With his work, Dr Iordăchescu aims to influence future policy making when it comes to illegal logging by questioning the framing of illegal logging as a security threat and a crime. 
'Some of the contention around illegal logging is a direct consequence of a fuzzy ownership regime in which customary or historical land uses are not properly acknowledged. The post-socialist reconfiguration of land tenure did not make justice to historical associations of owners who held lands collectively as forest and pasture commons for centuries. When the forests have been restituted to these commons in the early 2000s, public law assimilated them to NGOs or foundations, preventing them to engage in commercial activities like any other types of forest owners.  This deepened historical dynamics like poverty, exclusion from resources management and so on. In short, these are historical associations of forest owners, like we had everywhere in Europe until the 18th or 19th century. They disappeared in most countries during the transformations that came with the industrial revolution, particularly because of when land grabbing was introduced. But in Romania these associations still exist. So, although they have the collective right over the forest, they face serious obstacles in developing their livelihoods around forests as a resource. 'The law can be changed easily into recognising these historical formations as rightful owners and guardians of the forest. So you're already tackling a serious problem of household consumption being criminalised. This is one area which I try to influence in policy making.  
In the same time, I try to further the understanding of grey areas in timber trading and their connection to legal loopholes in both domestic and EU legislation. In many cases EU regulations and directives have not been transposed properly into the legal frameworks of new member states. Over time many businesses exploited these loopholes and created significant grey markets where large profits were made over short periods of time harming not only the economy but also the environment. 
'I try to bring to light some of these loopholes to the attention of policy makers, so they can tackle them properly. Tackling deforestation and illegal logging in Europe is a complicated matter that needs not only a proper understanding, but also democratic sanctioning. While it is essential to encourage the participation of civil society, environmental NGOs and other stakeholders in policy-making, forest-related regulations and strategies should be informed by sound science and democratic decision making. Otherwise, a turn to criminalisation could deepen socio-environmental inequalities.'
The funded BIOSEC project ended in August 2020, but work continues for Dr Iordăchescu and the rest of the team. 
'It's important now for us to communicate our results to policy makers. Personally, I will continue to investigate illegal logging and virgin forest protection, perhaps expanding to Slovakia and Poland too, continuing to work with state institutions and enforcement authorities, as well as anti-trafficking units and the people on the ground living in and around the forests.' 
Read Dr Iordăchescu's policy brief on 'The Illegal Logging and Timber Trade: Between public security threat and organised crime'.
Find out more about BIOSEC or follow Dr Iordăchescu on Twitter. 
Flagship institutes
The University's four flagship institutes bring together our key strengths to tackle global issues, turning interdisciplinary and translational research into real-world solutions.