Individualised pension age could reduce social inequalities, research suggests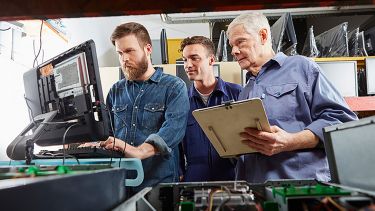 ---
The issue of extending working lives is high on the policy agenda globally. Most governments in Europe, including the UK, have responded by closing early retirement pathways and raising state pension ages. Research by EXTEND suggests that this poses a serious risk to social inequality. Instead, our findings highlight a number of alternative policy solutions that could help to mitigate this risk and ensure that people are enabled to work longer in a more fair and equitable way, in line with their capacity to do so.

Dr Dan Holman

Research Associate in the Department of Sociological Studies
---
The EXTEND (Social Inequalities in Extending Working Life of an Ageing Workforce) project investigated whether reforms aimed at extending our working lives increase social inequality and developed solutions to address them.
Professor Alan Walker and Dr Dan Holman from the Department of Sociological Studies worked on the project alongside researchers in Denmark, Finland, Germany and the Netherlands.
Some of the key findings include:
People with a low socio-economic status have worse self-rated health after leaving work compared to those of a higher status
Higher social expenditure on old age, health, and benefits can mitigate the effects of lower socio-economic status
Companies that have introduced at least one age or health management policy are 20-30% more productive than employers without such measures
Linking the pensionable age to life expectancy can increase social inequalities in some circumstances
High-earners are most likely to delay retirement in response to pensionable-age changes
In addition to the findings, the research team also proposed a series of innovative solutions, including changes to pension and retirement policies, aimed at improving the employability of an ageing workforce and new measures to encourage healthy ageing in the workplace.
Their recommendations include:
Individualising the pension age, taking into account a person's life expectancy and factors that affect it such as occupation and education level
Targeting health interventions at low socio-economic status workers such as health and physical activity initiatives
Increasing spending on key welfare-state benefits and services to improve health and decrease post-retirement inequalities.
Reducing physical demands on low socio-economic status workers and giving them greater autonomy and variation in their work
Professor Walker and Dr Holman presented the findings from the EXTEND project at the Royal Institution in London earlier this month. The event was held in conjunction with the International Centre for Longevity UK and saw findings shared with a policy-oriented audience of over 100 people.
Dr Dan Holman, Research Associate in the Department of Sociological Studies, said: "The issue of extending working lives is high on the policy agenda globally. Most governments in Europe, including the UK, have responded by closing early retirement pathways and raising state pension ages.
"Research by EXTEND suggests that this poses a serious risk to social inequality. Instead, our findings highlight a number of alternative policy solutions that could help to mitigate this risk and ensure that people are enabled to work longer in a more fair and equitable way, in line with their capacity to do so."
A world top-100 university
We're a world top-100 university renowned for the excellence, impact and distinctiveness of our research-led learning and teaching.