Multilingual children's book section opens at Sheffield Central Children's Library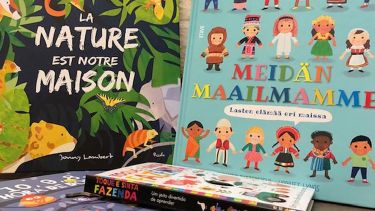 ---
Sheffield is home to over 150 spoken languages, and the diversity represented in Sheffield's multilingual children lends strength to the city's standing in today's global climate. Helping children to grow up multilingual is not just important in terms of identity and heritage, but also has real economic benefits.

Magid Magid

The Lord Mayor of Sheffield
---
Around 500 books in 37 different languages, donated by publishers, authors and the public will be available to borrow. Children will be able to register for a Reading Passport and gain a certificate for their multilingual reading efforts.
The multilingual section is the brainchild of Dr Sabine Little, Lecturer at the University of Sheffield's School of Education. Her research focuses on the important links between language and identity in multilingual families.
The project has received research funding as part of the Arts and Humanities Research Council's "Other Worlds Research Initiative" which will enable both qualitative and quantitative data collection on how families engage with the available resources, and what impact the library has on language development and identity development.
Dr Little, who was born in Germany, has been working with the library to organise multilingual storytelling events, such as Sheffield's inaugural Multilingual Book Day last March, where hundreds of people attended storytelling sessions in 11 languages.
Dr Little said: "Families in my research were telling me again and again how much it mattered to be able to share books. Reading together is a family practice, and being able to do so in the language you yourself grew up in can help to establish important links of belonging."
The launch of the new section was attended by both Lord David Blunkett and The Lord Mayor Magid Magid.
Lord Mayor Magid said: "Sheffield is home to over 150 spoken languages, and the diversity represented in Sheffield's multilingual children lends strength to the city's standing in today's global climate. Helping children to grow up multilingual is not just important in terms of identity and heritage, but also has real economic benefits.
"Many families struggle to maintain their home language, and access to resources is often a issue. It is great to see the University of Sheffield and Sheffield Libraries working together to support and nurture Sheffield's multilingual families."
Councillor Mary Lea, Cabinet Member for Culture, Parks and Leisure at Sheffield City Council said: "The multilingual book day in March was very successful and it meant that we could then get involved in this exciting pilot project which will last for 12 months.
"We will see additional multilingual books in the Central Children's Library; hundreds of books written in different languages have been donated by authors, publishers and individuals so it's a brilliant time for children's reading in the city. We hope that this pilot is a great success and that our young readers have lots of fun reading in different languages."
A global reputation
Sheffield is a research university with a global reputation for excellence. We're a member of the Russell Group: one of the 24 leading UK universities for research and teaching.