Dr Lucy Mayblin awarded prestigious Philip Leverhulme Prize for asylum and migration research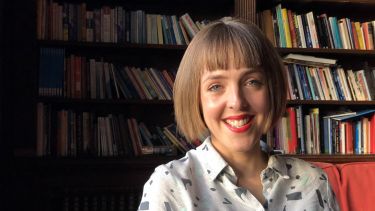 Lucy, Senior Lecturer in Sociology, has been awarded the Philip Leverhulme Prize, thanks both to the significant international impact of her research on asylum, human rights, policy-making and the legacies of colonialism and Lucy's exceptionally promising future trajectory. 
Lucy commented: "Obviously, I am absolutely delighted to be awarded this prize in support of my work.
"I will be using the Prize to support two new projects starting in 2021: an archival project on the 1967 Protocol on the Status of Refugees, which will explore the relationship between decolonisation and the expansion of the right to asylum; and the beginnings of a contemporary exploration of the international spread of 'crimes of solidarity' (where citizens are punished for helping irregular migrants)."

Dr Lucy Mayblin

Senior Lecturer in Sociology
Professor Sarah Neal, Director of Research for the Department of Sociological Studies, added: "'Being awarded the Philip Leverhulme Prize is a truly exceptional achievement and the Department is incredibly proud of Dr Mayblin. 
"The Prize will allow Lucy to further develop her ground-breaking sociological work on asylum and migration at a time when these issues could not be timelier and pressing."
Philip Leverhulme Prizes have been awarded annually since 2001 in commemoration of the contribution to the work of the Trust made by Philip Leverhulme, the Third Viscount Leverhulme and grandson of William Hesketh Lever, the founder of the Trust. The prizes recognise the achievement of outstanding researchers whose work has already attracted international recognition and whose future career is exceptionally promising.
Lucy is the author of Asylum After Empire: Postcolonial Legacies in the Politics of Asylum Seeking (2017) which won the British Sociological Association's Philip Abrams Memorial Prize in 2018, Impoverishment and Asylum: Social Policy as Slow Violence (2019), and Migration Studies and Colonialism (with Joe Turner, 2020). Her work has also been published in a wide range of journals including Sociology, Migration Studies, the Journal of Ethnic and Migration Studies, Economy and Society, and Citizenship Studies. In 2017 Lucy's article with Aneta Piekut and Gill Valentine '"Other" Posts from "Other" Places: Poland Through a Postcolonial Lens?' won the SAGE Prize for Innovation and Excellence in the Journal Sociology.
Lucy is the Programme Leader for the MA Sociology programme and teaches on the programme's modules 'Current Sociology' and 'Contemporary Challenges: Refugees and Asylum'.
Flagship institutes
The University's four flagship institutes bring together our key strengths to tackle global issues, turning interdisciplinary and translational research into real-world solutions.