New research published to tackle loneliness among migrant and ethnic minority groups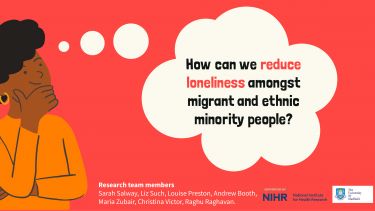 Funded by the National Institute for Health Research's public health research programme (NIHR PHR), the 18-month project aimed to identify successful approaches to reducing loneliness among these social groups. 
While loneliness is increasingly recognised as a social problem with significant implications for mental and physical health, research addressing these issues within migrant and ethnic minority groups is limited and there is reason to believe that these populations may face increased risks. 
Sarah Salway, Professor of Public Health and chief investigator on the project, remarked: 
"To our knowledge, this is the first research to examine in detail what we know about tackling loneliness among migrant and ethnic minority people. This was an exciting project in which we worked with members of the public to assess and summarise the existing research evidence. The project was unusual in looking beyond older people to consider loneliness at all ages and life-stages."
The project began by questioning how we understand the nature of loneliness. The team developed a new way of thinking about the factors that lead to loneliness that better captures the experiences of migrant and ethnic minority people. This framework highlights the need to focus not just on positive social ties, but to also recognise that negative social ties and interactions, and threats to feeling valued, are common experiences among these groups that can increase risk of loneliness.
Olivia Field, Head of Health and Resilience Policy, British Red Cross, was a member of the study advisory group. She said: "Our own research has found that people from ethnic minority backgrounds are at greater risk of experiencing certain factors that trigger loneliness and barriers to accessing support, such as feeling disrespected and not welcome. But to truly meet the challenge, we must better understand these experiences so that we can be sure everyone who is lonely gets the support they need."
The project examined the various approaches to tackling loneliness that have been developed and tested with migrants and ethnic minority people. The research went beyond simply asking whether these initiatives work or not. The team sought to understand the logic behind the initiatives and look at how, and why, they work out in the real world. The project identified eight interventions types that have been employed.  Among these, there was most evidence to suggest that shared identity social support groups are successful in tackling loneliness.These groups provide safe spaces for migrant and ethnic minority groups to be themselves and forge meaningful, reciprocal relationships. The study also found that other interventions that provide opportunities for participants to demonstrate competence and feel valued can be effective. Developing skills and knowledge to navigate unfamiliar, and sometimes hostile, new social contexts can be important, but are often insufficient on their own.
Beyond individual initiatives, the study also worked closely with practitioners and members of the public to consider how to 'loneliness proof' local social systems. Reflecting on the findings of the project, Sarah Salway remarked: "Tackling loneliness at the population level needs a holistic approach. Varied opportunities for social connection within and across ethnic groups must be created and concerted efforts to tackle inter-personal and institutional racism are needed. The study findings will be helpful for both local and national organisations seeking to address this important social problem."
Samir Jeraj of the Race Equality Foundation said: "Many of us with a migration story will recognise the findings here.  Perhaps we did not call it loneliness, but the need for steps to address it has been ever present." 
Olivia Field of the Red Cross further remarked: "This review will help us forge improvements in our own services and develop and drive forward solutions across the sector." 
Yvonne Witter, of Sheffield-based community organisation - Darnall Wellbeing - was instrumental in convening one of the Sheffield public consultation groups, commented: "I am pleased that I had the opportunity to be involved with the project and felt that my contribution was acknowledged. I had the opportunity to contribute to discussions on how to implement ways to tackle isolation and support the needs of individuals in a positive way."
Key findings and case studies can be found within this booklet.   The scientific summary is available here (with full project report coming soon).
Sarah Salway is also a member of the Sheffield Centre for Loneliness Studies.
Flagship institutes
The University's four flagship institutes bring together our key strengths to tackle global issues, turning interdisciplinary and translational research into real-world solutions.