Sociological Studies students recognised as 'Outstanding' Student Mentors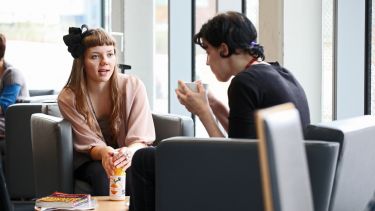 BA Sociology students Sylvia Barillaro and Emily Rimmer each won the title of Outstanding Sheffield Mentor 2020/21, in recognition of the exceptional work they have done to support other students in the Department of Sociological Studies over the course of the academic year.  
In addition, Rebeca Richardson, BA Sociology with Criminology student, and Madison Lee, BA Digital Media and Society student, were also nominated for the award.
Award winner Sylvia said: "What I enjoyed most about being a Student Mentor was being able to meet someone who was going through and experience that I had already been through, and being able to help someone with all the things I had previously struggled with. It was lovely being able to meet new people and guide someone through their first year."
Second- and third-year undergraduate students are eligible to volunteer to become a Student Mentor and are usually matched with a maximum of four first-year students from their Department. 
Not only is the scheme a great deal of support to mentees, but Student Mentors also gain new skills from the experience that will support them through their learning and development and will enhance their employability prospects.
What our Student Mentors say
Madison Lee
"I applied to be a Student Mentor as I felt this year for the first-year students would be incredibly different from when I started. Because of COVID, I believe it was essential for the first years to have a person they could talk to and share my experiences with. The role of a mentor is to be a friendly face to new students and offer them your knowledge and support during their time. Talking to someone who has recently gone through this can give them tips and insight into their studies. I enjoyed the role because I met one of my mentees when the restrictions weren't as strict. It was really lovely meeting her and having the chance to learn about her. 
"During the training period, you realise that some students no longer need a mentor, so communication sometimes reduces. Hopefully, for this year's mentors, they can have the chance to meet their mentee in person. The skills which I have learned during this process are understanding, communication and friendship.
I advise others to participate in this experience as you get to learn a lot during the process and the training period. The mentoring scheme also provided additional courses with Mind about student mental health support, which was also extremely valuable. Overall, I enjoyed this experience as I gained a friend from it and also the skills can be transferred into other areas of life."
Rebeca Richardson
"When I made the decision to move away from home to Sheffield for university I felt excited, however I also felt very anxious and apprehensive. Sheffield was completely new to me and I was leaving my family and the majority of my friends back home in Newcastle. I found the mentor programme and signed up straight away! I was matched to a lovely girl who made the whole transition period so much easier for me. I felt comfortable asking her questions, even if I thought they were silly! After first-hand experiencing the benefits of the scheme I knew I wanted to sign up as soon as I got into my second year. Also, I'm interested in going into youth counselling in the future, I believe this is such a good experience; giving advice and being a first port of call for someone. 
"I think when you volunteer for a programme such as this, you have to remember to manage your time correctly. For me and probably many others, balancing university, volunteering, physical activity, jobs and more can be difficult! If you find yourself leaning off track, it's important to rebalance yourself so you are never sacrificing university for your other commitments. The mentor programme is really good for that though because if you don't want to take on anymore mentees, you just let them know! It's as easy as that!
"Being a mentor has improved my communication, empathy and listening skills. These are all skills that are all highly important in all aspects of life. It's also helped improve my time management and multi-tasking skills, learning to balance many responsibilities at once. I definitely feel that the mentor programme has been valuable for me. 
"I would tell anyone thinking about getting involved to just do it! It's such a great experience, getting to advise and comfort new students, especially when you were once one yourself, feel great! Remember to never take on too much and always prioritise your own mental health but if you feel it's manageable, definitely give it a go!"
A world-class university – a unique student experience
Sheffield is a research university with a global reputation for excellence. We're a member of the Russell Group: one of the 24 leading UK universities for research and teaching.