Careers and employability
A Sheffield degree opens the door to a remarkably rich and varied range of career options. This reflects the breadth and diversity of our degrees, as well as the unique skills-set that our graduates possess. It also reflects the high standing our graduates have with prospective employers.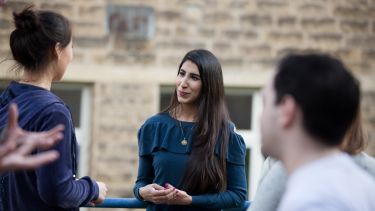 Off
We actively encourage students to gain skills, understanding and personal attributes that make them more able to gain employment, be successful in their chosen occupations and become active citizens.
Working with the University Careers Service, we offer support in gaining work experience, developing skills and finding opportunities for progressing your career and much more. For those pursuing a research career, we offer more tailored support and advice on the next stages of postgraduate research study or on developing a research career in other organisations.
---
Volunteering
Sheffield Volunteering helps students of all levels to make an impact in our city through community volunteering. By giving your time not only can you contribute to your community but you will gain new skills and experiences, which will in turn enhance your personal development and can make an impact on your CV. You can volunteer both within and outside of the University.
I feel that it has given me a sense of companionship in an otherwise isolating and lonely time. I'm grateful for Food Works and that every Sunday I can go back to the kitchen, turn my mind off from the craziness of the world and cook.

Eric Banks

Graduate, MA Social Work
To read more about Eric's volunteering story and to find out more about volunteering at Sheffield, please click on the links below: 
---
What are our graduates doing?
Since Graduating I have been a Transitional Housing Service Worker for a homeless charity. My role was to support young people leaving care and custody going into accommodation. Whilst I was in the voluntary sector and not in a 'traditional' Social Work role, I was lucky enough to be able to undertake the Assessed and Supported Year in Employment. My new role will be with the Integrated Gangs Unit in Westminster, working with 10 to 24-year-olds who are affected by Gangs.

Rebecca Joy Novell

Social Work MA
---
"Through this course, I have learnt how to understand international trends and changes systematically. As my work involves creating short-term international programs for students, I must be aware of the international trends to develop programs which are intended to widen the global vision of our students."

Wendy Kim

Product Specialist, Hailiang Education Group
---
To find out more about what our graduates are doing, please visit our student profile pages.
Weekly online events
Attend an online event when it suits you, all year round, as an alternative to an open day.
Every Wednesday, Sheffield Live sessions cover different aspects of University life. You can also meet your department and learn more about studying your subject.