Postgraduate careers support
Welcome to the Postgraduate Careers Service portal to help you with career planning and development for your postgraduate study and beyond.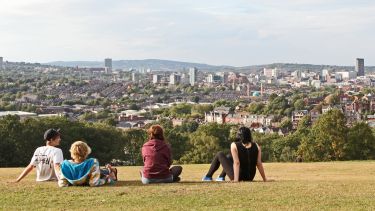 We know that our postgraduate students have busy teaching timetables, often in addition to work or caring commitments.
Whether you are studying for a postgraduate certificate, diploma or masters programme (full or part-time), the Careers Service is here to help you to explore your options through our online, one to one and group support.
Time goes quickly during postgraduate study, so start making your career plans and check our Postgraduate Careers Calendar to keep on track with all the opportunities available for your personal and career development.
Watch our postgraduate students talk about support available from the Careers Service at the University of Sheffield.
Sheffield is a diverse city, with a rich cultural life – the perfect place to spend your time studying for a postgraduate qualification.
Our Students' Union has been voted number one for the past four years in the WhatUni Student Choice Awards and we have plenty of societies and support developed with postgraduate students in mind.
Our graduates from postgraduate study progress on to a vast range of careers in the UK and across the globe, with employers ranging from small businesses and charities to major multinational companies and governmental or other public bodies.
The University has a range of support to help you make the best of your time during your postgraduate studies.
What you offer to future employers after your postgraduate studies
You might have extensive work experience or be entering postgraduate study straight from an undergraduate degree.
Regardless of your starting point, every graduate from the University of Sheffield gains an impressive range of knowledge and skills from their time here.
Find out more about our Sheffield Graduate Attributes and gain an overview of the opportunities for learning, impact and self-development you will have during your time as a postgraduate student.
We're here to support you to strengthen your abilities to talk about and market these transferable skills to future employers.
---
As a postgraduate student with an intensive and relatively short course ahead, it is important to start your career planning early on. To help you explore options and get started with your career development, you will have access to a wide range of resources and talks from specialist careers staff as well as employers and external speakers.
When you register as a postgraduate student you'll have access to Career Connect to find jobs, sign up for careers events & talks, email any questions directly to the careers team and book appointments to talk about your future career.
If you're an international postgraduate student and need to talk about visa options, the University has a dedicated team of professionals to advise you.
We know that postgraduate students are all on different career paths and at different stages in your career development. Whether you have a career in mind or are totally undecided about what will be next for you, don't worry, our friendly team of careers advisers and consultants are here to help you.
Alongside getting support for your career development, you might want to get support on academic skills as a new postgraduate student. The University's 301: Academic Skills Centre has a range of resources on academic skills for masters students which can help you transition into postgraduate academic life more smoothly.
What career activities can I work on before my postgraduate course starts?
From short 2 minute activities to hour long pre-recorded webinars, there are various free activities you can be doing before your course starts:
Downloadable plans:
Online courses:
General information:
When do I need to start looking for job opportunities?
Graduate job deadlines can be very early in the academic year, especially with the larger, more competitive schemes and so it's never too early to start planning. Smaller organisations may have deadlines throughout or later in the year, but you can still be planning your time, gaining experience and refining your applications.
If you are looking for part-time job opportunities to fit around your postgraduate study we offer support to help you get your CV ready and find jobs. Our month by month postgraduate Careers Calendar will help keep you on track with what you can be doing when.
How can I talk to potential employers about my postgraduate qualification, skills and experiences?
When you talk to future employers in interviews or in CVs or applications you will need to communicate with them about the following areas in relation to your postgraduate course:
I think I want to work abroad after my postgraduate studies
The Careers Service has expert teams working with employers all over the world to find out what skills they are looking for in graduates along with the Labour Market Information to support our graduates looking to work overseas or return to their home countries to further their careers. Our subscription to Going Global (accessible once you start your course) for registered students, provides you with useful information on over 120 locations worldwide, including useful country-specific information on recruitment practices, insider tips from local experts and global job search resources.
---
August/September

Whether you are already in Sheffield, living overseas or elsewhere in the UK before making the move to Sheffield, there's plenty you can get started on for your career planning and development. Some of Our activities are online and can be done at a time and place to suit you.

October

We focus on advertising our part-time jobs and volunteering opportunities online throughout October and November. Employers will also be advertising graduate positions that will start once you graduate, so look out for our emails about closing dates. We will hold our online careers fair, where you can connect with UK and overseas employers, attend talks and ask questions. Make sure you log in to Career Connect to search and register for employer events and recruitment fairs.

November

Advertising part-time jobs and volunteering opportunities to gain useful work experience for your CV will continue. Our workshops and webinars on CVs, applications, interviews, assessment centres and many more will continue to take place throughout November. Book your place on Career Connect.

December

Whilst you have a short break from teaching over the Christmas holidays you can still be using your time effectively to apply for jobs or reflecting on your next career goals in order to strengthen your CV or future applications. Some of the larger UK employers may have application deadlines during January which you can be planning for now.

January

Traditionally the time of new year's resolutions! Have a think about any career resolutions you want to make. Maybe you want to attend more of our webinars to build your skills on writing winning job applications or CVs or perhaps you want to practice a mock interview or try out some psychometric tests online. Whatever your career goals, visit our website to read up on resources and visit Career Connect to book onto relevant events and sessions. Some of the larger UK employers may have application deadlines during January.

February

It's important to organise your time well during this period. You will not have time to apply for every job you find so it's important to work out which job applications you want to prioritise and to organise your time well. Keep an eye out for our workshop/webinar programme to help with career planning amongst other useful topics to keep you career focused.

March

At this time, you may find the number of UK graduate schemes which are still open has fallen. Some employers have been known to re-open their graduate recruitment later in the year so keep looking throughout the semester.

April

University teaching finishes for a 3 week Easter/Spring break, but you can use this time to reflect, plan and talk about anything careers-related with our friendly team of advisers and consultants as well as using our resources to spot areas you need to work on for your career development and to make sure you are planning to make the most of what may be for many your final term of postgraduate study.

May - August

You are now coming towards the end of a full-time Masters programme and companies will be advertising direct entry vacancies to start over the next few months. Keep checking Career Connect for graduate internships with local companies. These are a great way to build your skills and to experience more of life in Sheffield!

September and onward

You can access support from the Careers Service for up to 3 years after you graduate so we'll still be here to help you make the move into employment, reflect on your career hopes and worries, build your career confidence and for you to access our job vacancies. You will also notice that employers start again to advertise graduate schemes for the following year's start date, so you may want to apply for these.
The University of Sheffield prides itself on our international outlook and we offer support to all students to get the most out of your university experience as well as additional support to international students.
What career activities can I get started with before my course starts?
It's great to get started with career planning and thinking about your career goals as soon as possible.
I want to work part-time during my postgraduate studies
International students wanting to work in the UK as part of their studies should refer to this section of the SSiD website. It is important to check when you can work in term time and during vacation (this varies by level of course), and what sort of work you can do.
Volunteering, clubs and societies can be a way to make new friends, as well as develop new skills or build on existing ones. International students can usually work for up to 20 hours per week during term-time (it is important to check your Visa for your individual entitlement). We advertise a range of local part-time vacancies throughout the year on Career Connect.
The University recommends that all students (both international and home) work no more than a maximum of 16 hours a week during term time to ensure that their studies do not suffer.
You will need a National Insurance Number (NINO) in order to work in the UK. Find out how to apply.
For more information on a variety of topics related to part-time/casual work in the UK such as how to find vacancies, minimum wages and legal requirements, take a look at our part time jobs page.
I want to work in the UK after my postgraduate studies
Over two thirds of graduates from UK universities go on to work in a job area not related to their degree. This means that you have lots of choices for your career development and progression.
You might be studying for a postgraduate vocational qualification (training towards a particular job) or your postgraduate study may be more general. Either way, there are opportunities available to you.
The UK is a highly competitive job market and you will need to develop high quality CVs or application forms to maximise your chances. Use the resources available from the Careers Service and attend our webinars/workshops or book an appointment through Career Connect to ensure your applications are as strong as possible.
Visa Information
International students wanting to stay in the UK to work after graduation will need to make sure they have an appropriate work visa. The regulations concerning the 'right to work' in the UK are complex and can change frequently. The university regularly offers webinars on visa information for international students, so look for upcoming events along with relevant websites including:
I want to return to my home country to work after graduation or work in another country
The Careers Service has expert teams working with employers all over the world to find out what skills they are looking for in graduates, along with the Labour Market Information to support our graduates looking to work outside of the UK. Going Global can also provide you with useful information on over 120 locations worldwide, including useful country-specific information on recruitment practices, insider tips from local experts and global job search resources.
---
There are many reasons you may wish to go on to further study after your postgraduate taught qualification, including studying for an additional professional qualification to enhance your career options or the desire to deepen your research knowledge and skills in an area of interest.
About research degrees (PhDs)
A PhD is often viewed as an entry route into an academic career in teaching or research, but can also be a basis for employment in research, either in industry, government or the voluntary sector.
Academic careers are highly competitive both in the UK and overseas. You will need to apply for a PhD in a similar way to how you applied for your postgraduate taught qualification, although application processes will differ for different universities.
The first step before you apply for a PhD
Contact potential supervisors to find out as much as possible about their project or, if you are submitting a research proposal, their specific area of expertise which could match up with your research ideas. This discussion will allow you to explore practical issues and talk through expectations about PhD research.
How to find out more if a PhD is the best option for you
Search the Find a PhD database, which lists prospective PhDs sorted by subject, institution and country.
The following resources can help you to find out more about whether a PhD is the best option for you following your postgraduate taught qualification: Read the Postgrad.com - studying for a PhD website, which offers a practical guide to help you prepare for a PhD.
The funding system for postgraduate study can be very complex so read our resources on our explore further study page and book an appointment to talk about your next steps towards a PhD with our friendly advisers and consultants in the Careers Service if you need it once you are enrolled
A world-class university – a unique student experience
Sheffield is a research university with a global reputation for excellence. We're a member of the Russell Group: one of the 24 leading UK universities for research and teaching.